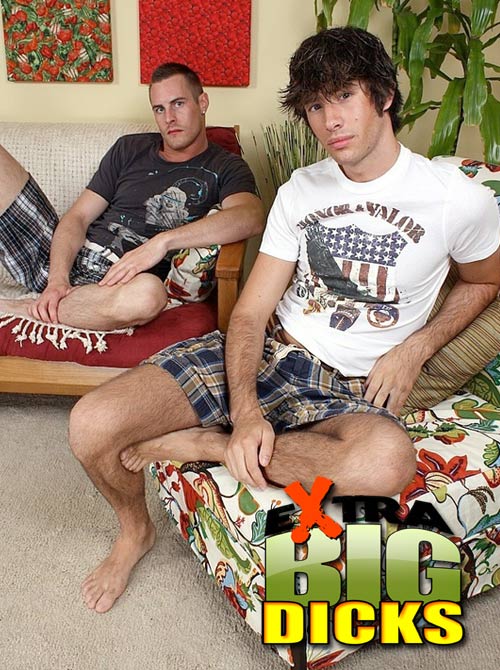 Addison Andrews & Parker Brooks at ExtraBigDicks.com
EBD wrote:
Making his debut on ExtraBigDicks.com this week is the now infamous Addison Andrews. At 26 years of age and at 6'3″ this international man of intrigue is a 9.5" cut above the rest. (Feel free to read into that one!) Born in Israel, Addison grew up in London; got that sexy accent and has spent the last few years traveling the states. The second hottie making his debut this week is a home grown boy from one of our bordering states here in Florida.

Parker Brookes is 22 years of age and still calls Alabama home. The chemistry between these two is insane. They start kissing before Parker takes the lead and pushes Addison back so he can start exploring his smooth pecs and abs with his tongue. Addison drops his drawers to discover his massive cock looks impressive even asleep. "That's a huge cock" says Parker only to be assured it's not done growing yet. Surprisingly, that python dick has met it's mongoose in this mop-topped Alabama stud who has no problem deep-throating every inch Addison's brought to the table. Damn, Son! Addison then gives some back as he takes Parker's cock in his mouth and sucks on his hard cock and balls. That hot tongue then heads south as it starts to explore that sweet ass he'll soon be fucking. "Eat that ass." Parker groans as Addison tongue fucks that hot hole. All that rimming has got Addison's dick begging for more. Addison slides his cock inside and immediately starts to fuck that hot ass. "Aww fuck me" begs Parker as he gets that ass nailed. They move to the floor where Addison keeps fucking Parker doggy style. He grinds and slides that dick in repeatedly as Parker fucks back wanting every delicious inch inside him. But WAIT there's more! Addison the sits back as Parker sits on that dick in a hot reverse cowgirl. Parker bounces on that dick like he's on a bouncy ball and its sending Addison into overdrive. On his back with his legs wide open, Parker's ass is getting dick deeper and harder than ever before and it's hitting him in ALL the right places. As Parker starts to explode, Addison buries his dick even deeper. Addison then pulls out and shoots his load all over Parker's smooth chest and face. Whew. These two might need to re-hydrate.