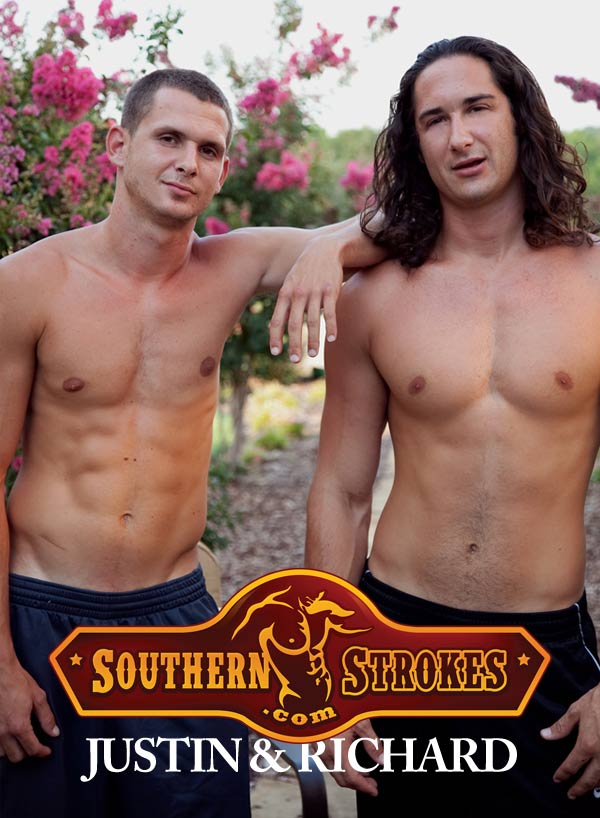 Watch Justin & Richard's Video Clip | Visit SouthernStrokes
I have to say that I couldn't think of a better way to break in the Ranch than bring two hot guys over for a little naked fun. Richard and Justin are good buddies but they weren't real excited about doing a video together. As hot as these two are and as much play as they get, I can't believe that they haven't tag teamed a girl together. Well it took a little coaxing but I finally convinced them by throwing a toy in the mix.
There are a lot of very sexual guys that are straight and they don't know what them are missing out on when it comes to toys. I told Richard and Justin that I wanted them to check out the latest Fleshjack toys and let me know what they thought. Their curiosity got the best of them and they both said fuck yea lets do it.
Richard and Justin and really two of the coolest guys to be around. They are extremely hot, they know it but they aren't arrogant at all and they are comfortable just hanging out and shooting the shit. It has been a hot hot summer and this day was one of the hottest of the year. They both love the sun so we waited until the heat of the day was over and went outside and just turned them loose.
Make sure you watch all of the beginning especially when they reach the point where they have to bring their cocks out. It is really pretty comical. One thing you will notice is that when they dropped their pants, they both have raging hardens in their hands. This video was so hot watching then work their huge cocks until they both spill thick cream loads of thick white cum all over the table. Welcome to Shut'er down Ranch.
Watch Justin & Richard's Video Clip | Visit SouthernStrokes