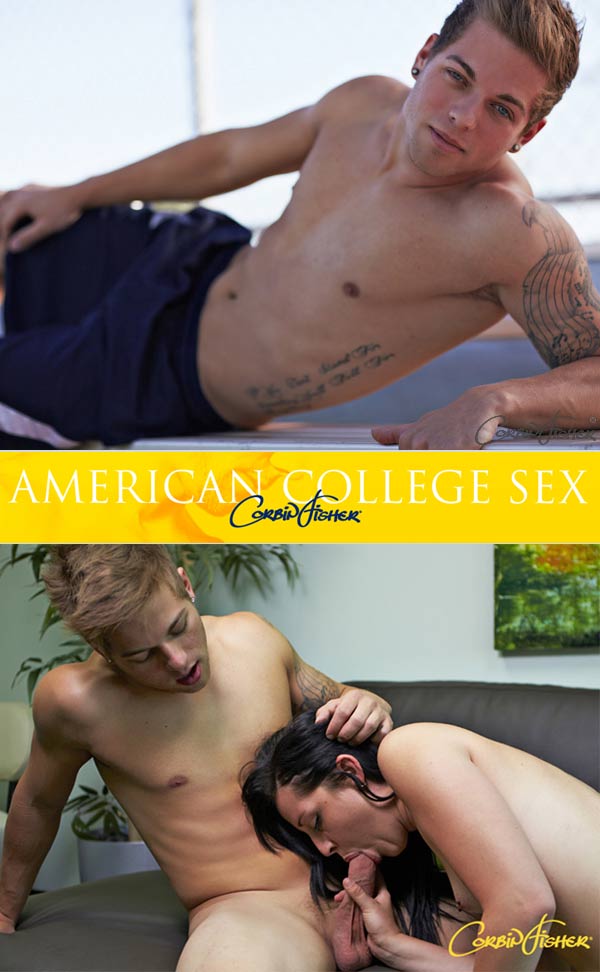 Watch Cooper & Paige at American College Sex
New freshman, Cooper has proven to be extremely popular. He's also been extremely fun to have around. He's got a great sense of humor, and of course, it doesn't hurt that he's got those incredible eyes and handsome face.
Paige is our newest coed, and she's been thrilled at the hot guys she's gotten to fuck. She's been eyeing Cooper since she got here. Once they got paired up, she got right down to business!
Cooper and Paige make out on the sofa. She massages his cock through his jeans. Cooper plays with her tits before getting out of his pants. Once Cooper lays back on the sofa, Paige kisses her way down his lean body so she can suck his dick.
Paige swallows Cooper's cock, eager to get every inch down her throat. Cooper says he wants to taste Paige, so she moves into a 69 position so Cooper can eat her out while she sucks his cock.
After Cooper gets Paige good and wet, she hops on top of his dick and rides him in a reverse cowgirl. Cooper stuffs his cock up inside her, making her moan. She bends over so Cooper can fuck her from behind.
Cooper flips Paige onto her back and pounds her in the missionary position. He says he wants to cum all over her – so he unloads a huge spray of cum all over her stomach!