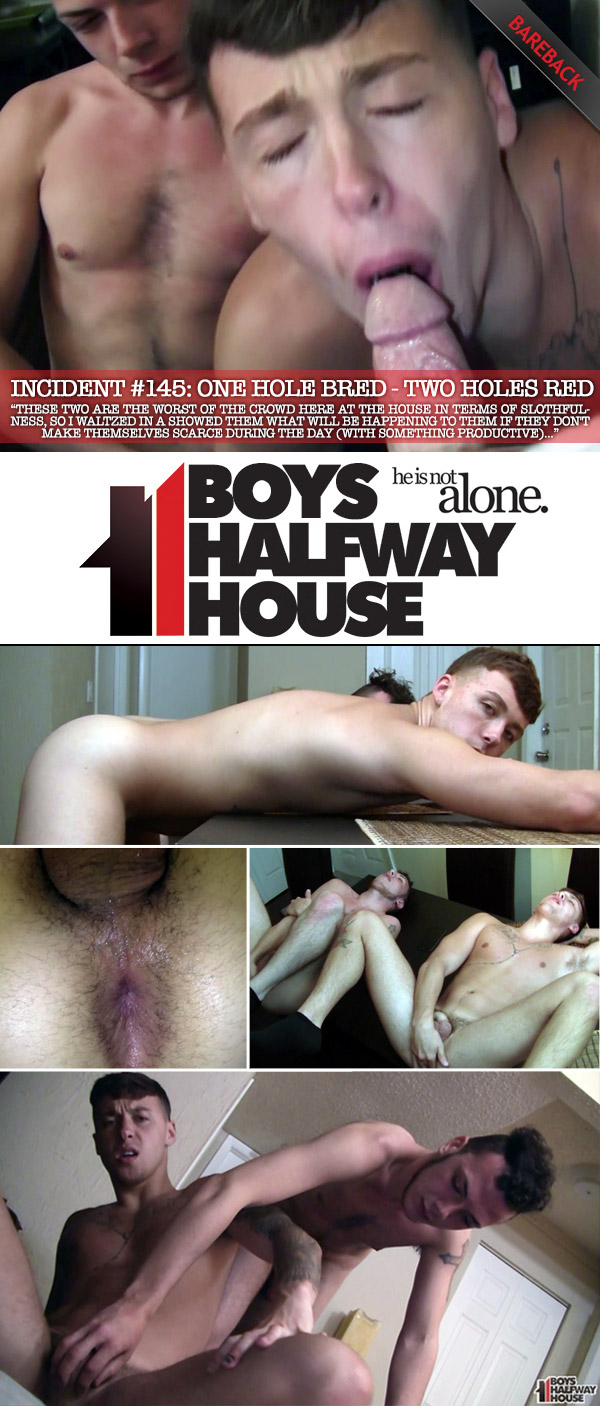 Watch Incident #145 at BoysHalfwayHouse
One of the big reasons these guys get into trouble in the first place is that they have nothing to do. In particular, they don't work. They have no jobs, and they don't have much of an inclination to find one. Blame it on pop culture, which shows celebs constantly relaxing and partying, or blame it on their parents for being lazy asses themselves. Whoever you blame, though, these guys need to shape up. They are adults, and the sooner they begin acting like it the better off the rest of us will be.
These two are the worst of the crowd here at the House in terms of slothfulness, so I waltzed in a showed them what will be happening to them if they don't make themselves scarce during the day (with something productive). Now, I always love getting head from two young guys at once. If you've never tried it, you should. When one of them's jaw gets tired or they start choking, the other can just instantly take over. It's amazing, it really is. So of course I had these dingbats down on my cock for quite a while. Their holes, though, were waiting on me.
I couldn't decide which one to fuck first! They both have amazing butts and holes. I picked the younger one first, and he was definitely the tighter of the two. Then I moved over to the other one. His cunt definitely felt better, so I decided then and there that I would breed him instead of his friend. But I did go back and forth a few times. Both of them got a good slamming, and each of them got some ass-to-mouth action, too. Going down on a cock that just came out of your own ass is pretty fucking nasty, but going down on a cock that's been inside your buddy – that takes the cake. I love fucking with these guys like that.
I had the more athletic of the two ride my dick to end off the therapy session. This kid can ride dick like a shanghai hooker! It didn't take long for me to blow a massive load completely inside his hole. When he pulled up and it started streaming down my dick out of his ass, I had the other guy lick it clean. It might not pay the bills, but being total whores: now that's a job I know they can do!