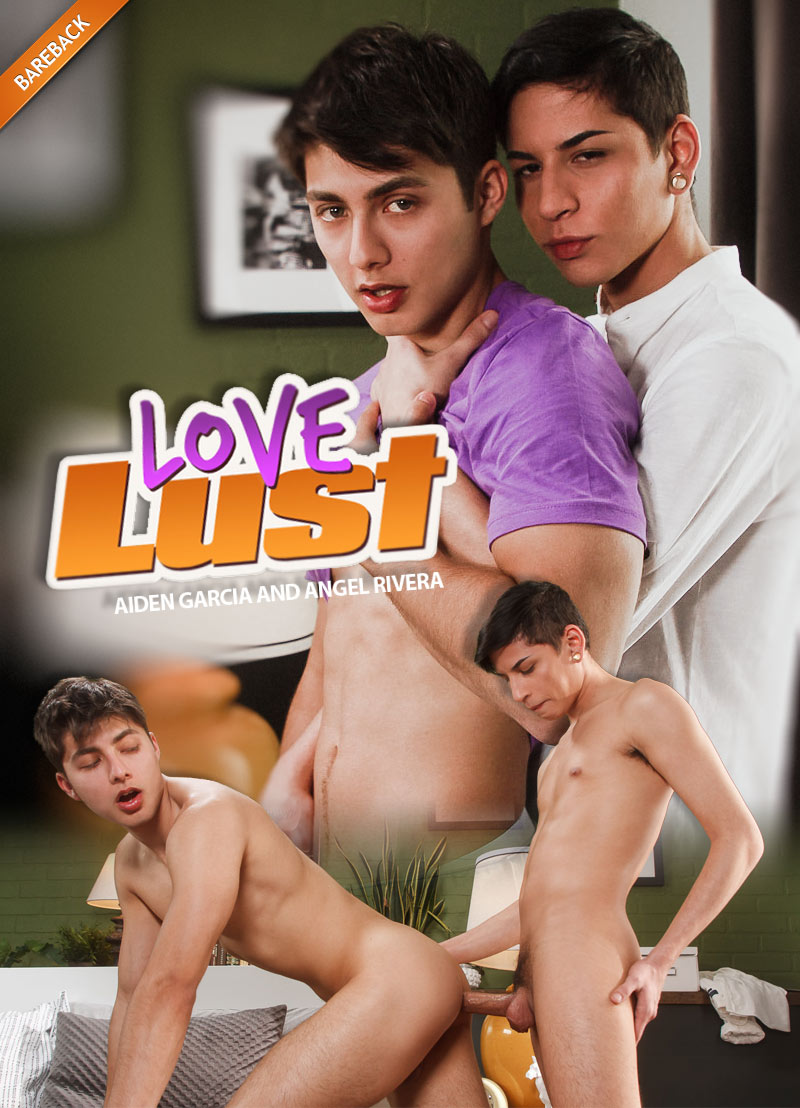 Aiden Garcia and Angel Rivera Flip-Fuck in 'Love Lust' at HelixStudios:
Helix Studios heart throbs Aiden Garcia and Angel Rivera sizzle in their second scene together. The chemistry has DEFINITELY intensified along with the comfortability to get even deeper and deliciously dirtier with each other's beautiful bodies.
The heat is on with a handsy Valentine's day deep kiss session followed by a deep throat, full throttle 69 suck fest! Aiden Garcia gobbles Angel Rivera's rocket. Meanwhile he's feeling up the spicy latin's lovely fanny and eventually getting him on all fours to tongue fuck the boy's big, meaty booty. Angel strokes his swaying anaconda as Aiden inspects the warm insides of that edible ass with his fingers and tongue. His blood warms his weapon, getting it titanium hard.
Angel Rivera glances back, eager to get his hole drilled. Aiden Garcia slaps the boy on an asscheek. He then slams his severely sizable salami up Angel's chute with no condom covering that gorgeous groin of his. Wrapped up in pure pleasure Garcia groans "fuck me" as Rivera rams his rump like a rock star. He continues pushing his pretty mug into the mattress by the back of the head. He kisses his bottom then asks for his own ass filling and flips onto his back spread eagle.
Raging hard and happy from his hammering, Angel Rivera annihilates Aiden Garcia's hungry hole. He smashes his stiffie balls-deep while Aiden handles his own huge hotdog. Rivera can't stare at Garcia's gorgeous gift without wanting to hitch a ride. Therefore, he hops on the kid's hog and puts the pedal to the metal.
Conclusion:
At a pounding pace, our pretty pair speed down the deep dick highway headed for an orgasmic cumclusion. Rivera wraps a hand around his bouncing bone and empties every ounce of liquid ecstasy he's got onto Garcia's gorgeous, golden torso. Rivera's twitching tush causes Aiden to erupt inside the boy's tight tunnel. Spent and happy, the guys grab each other, kiss and gasp for air while Aiden invades his Angel's cum slicked sphincter with his fingers, causing hot white seed to seep out.
Watch as Aiden Garcia and Angel Rivera Flip-Fuck at HelixStudios
Watch as Aiden Garcia and Angel Rivera Flip-Fuck at HelixStudios