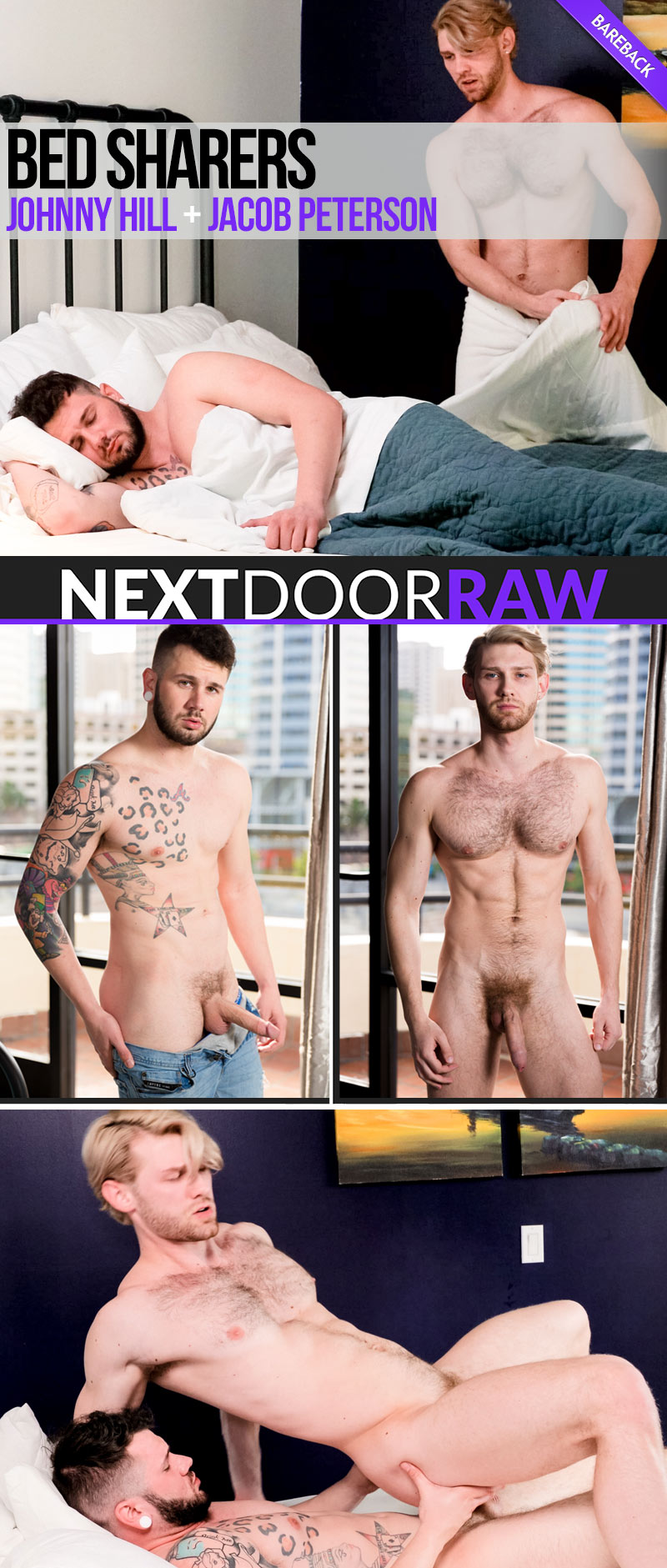 Johnny Hill Fucks Jacob Peterson at NextDoorSTUDIOS, Scene Summary:
Thanks to a hotel area and a sudden lack of available rooms in the area, tour bros Johnny Hill and Jacob Peterson have no other choice but to share a single bed. Neither one of them is particularly keen on the idea, but as they crash out, all seems well enough, until Johnny starts fingering Jacob's ass in his dreams.
Johnny Hill sleepily tells Jacob Peterson to suck him off. So Jacob thinks about it for a second and decides to do it. Johnny instantly becomes hard in his mouth, but when he comes to, he wonders why Jacob Peterson is sucking his dick. Embarrassed, both guys turn away from each other as Johnny, now fully awake, actually considers what it would be like to fuck his bro.
Johnny Hill's dick gets hard just thinking about it. So he turns and initiates with Jacob Peterson again. Jacob is tentative but eager at the same time. Eventually he resumes sucking Johnny off. It turns out to be the best decision Johnny Hill ever made. Because he instantly realizes his friend can suck a mean dick.
After returning the favor, Johnny Hill fingers Jacob Peterson's ass again with designs to fuck it raw. Jacob is game, and so Johnny enters from behind. He's slowly inching his rock hard cock bareback into Jacob's waiting hole. Jacob takes it with ease, and Johnny wonders how much secret dick his friend has been getting on the side. Nonetheless, he proceeds to pound Jacob Peterson all over the bed. He fucks doggy before letting Jacob take a ride on the Johnny Hill Express. Jacob strokes himself while he grinds his ass against Johnny, taking his cock deep inside him.
Jacob Peterson ready to lose his load, so he tells Johnny Hill to flip him onto his back and fuck him hard. Johnny does as he's told and Jacob Peterson spits a nice batch all over his stomach. Meanwhile, Johnny Hill pulls out and blasts his hole with a mammoth load. They smile and kiss, knowing it's gonna be one hell of a vacation from here on out. Enjoy!
Watch Johnny Hill Fucks Jacob Peterson at NextDoorSTUDIOS