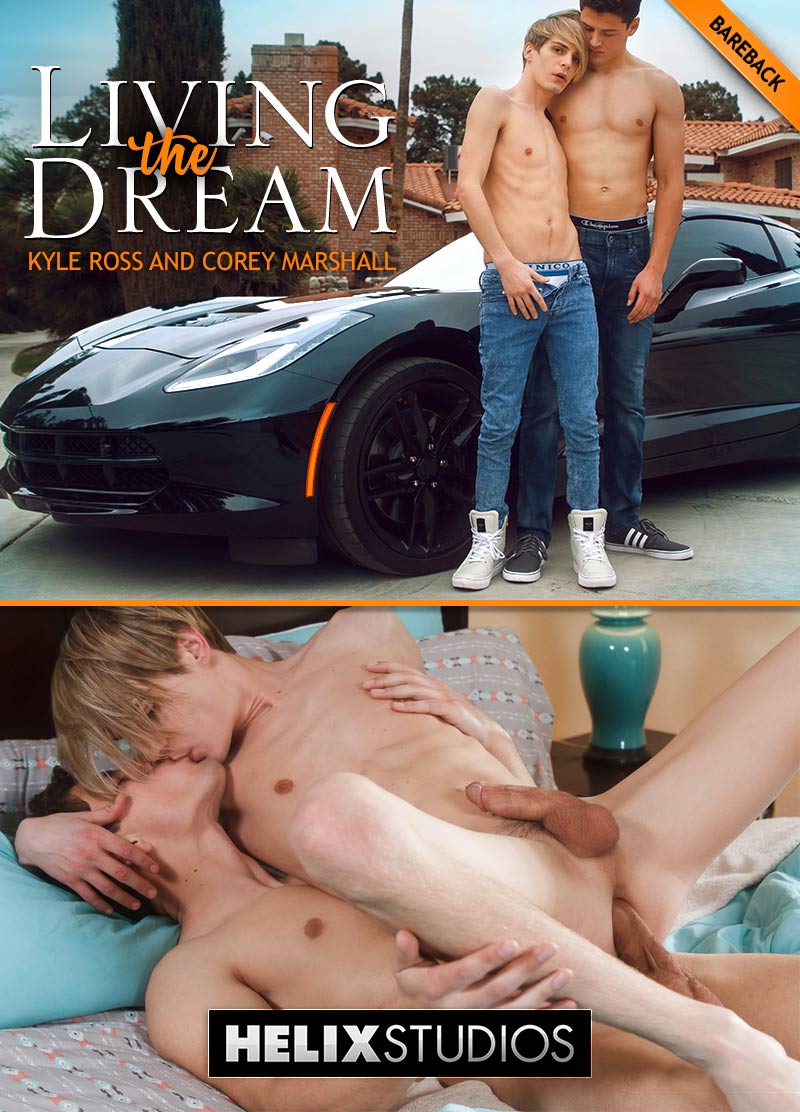 Corey Marshall Fucks Kyle Ross at HelixStudios Scene Summary:
California kid Kyle Ross is looking sexy as he steams up our photographer's lens during an outdoor photoshoot. The beautiful blond decides to double our pleasure by inviting cocksure Corey Marshall into his shoot.
Ross removes the jock's shirt and the pretty pair kiss while wandering hands roam over one another's smooth, chiseled bodies. Our photographer instructs Corey Marshall to give him more of Kyle's cake. After that the sex stars move from the street to the sheets. Kyle Ross is quick to get on Marshall's magnificent magic stick. He swallows the young muscle stud's long schlong on his knees before getting creative for a fierce face fuck. The beautiful blond bottom backs up to Marshall's meat. He's hard, horny and ready for a raw ramming. Corey accepts the amazing ass invite and slides his bare boner deep inside Kyle's smooth caboose.
Blondie's surfer boy hair dangles in his pretty mug while getting masterfully cocked by Marshall's member. He's multitasking his own bouncing "business" for ultimate pleasure. Ross orders Corey Marshall onto the bed, gives that groin another spit shine, then hops on the huge hog for a raw ride. The fuck junkie faces away from his top at first, allowing us a gorgeous view of that bountiful bouncing bone spread eagle. Then, Kyle Ross spins his smooth sphincter around to kiss his cock king while controlling the thrust throttle.
Corey Marshall is anxious to tear into Kyle Ross' rump hard and fast so he pushes his bottom onto his back and gets to work. He hammers at Kyle's hole so hard his toes curl! Ross relaxes into the ecstasy as Corey's cock pummels his prostate and a king sized portion of pleasure POURS from his piece without him even having having to stroke it! Corey Marshall creams the kid's can; then, the stud pushes his fresh load deep inside Ross' rump. The beautiful boys enjoy a postcoital kiss as our famous cock cam catches cum drizzle down Kyle Ross' crack while Corey's cock is still corked deep.