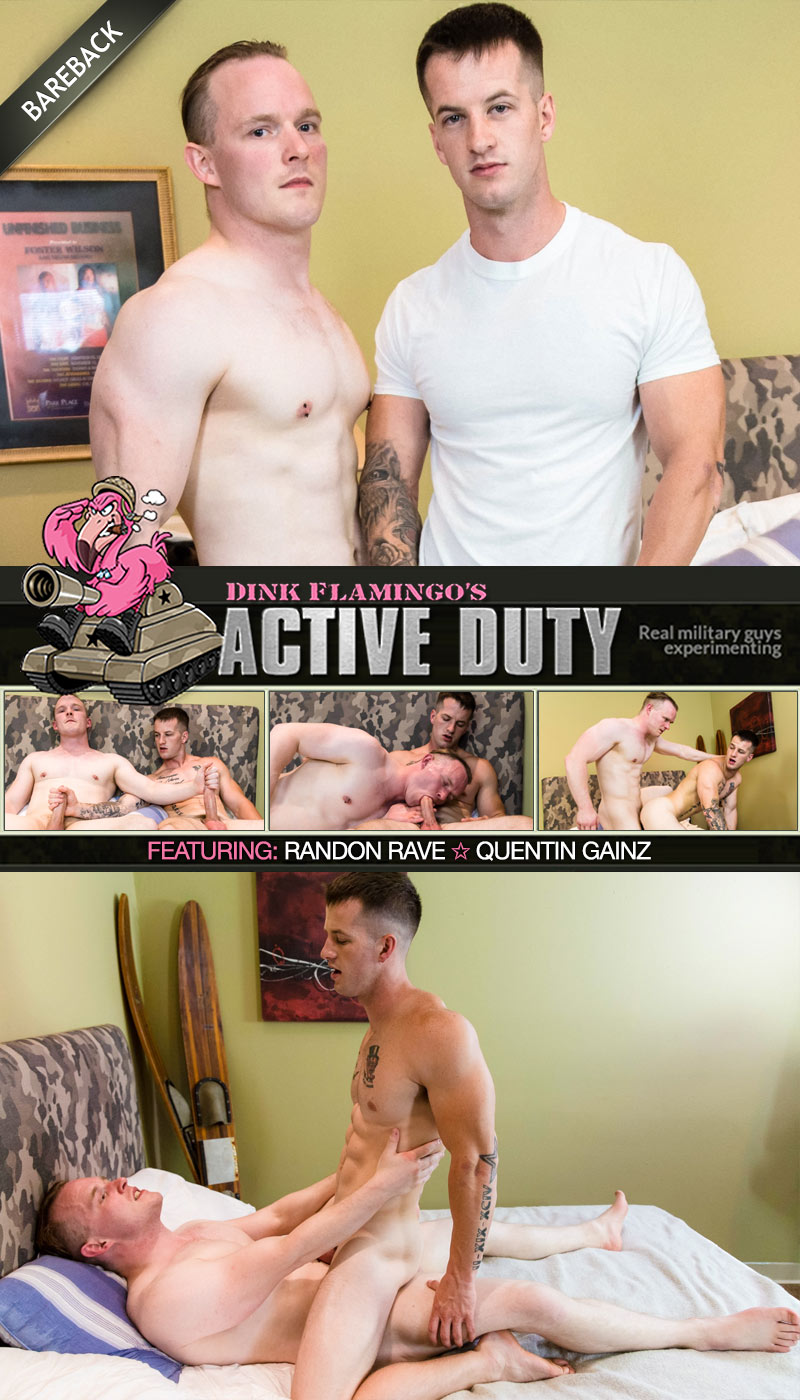 Randon Rave Fucks Quentin Gainz at Active Duty:
Recent Active Duty recruit, Randon Rave, is taking a shower while Dirk interviews Quentin Gainz in the bedroom. Quentin is excited about the new look and feel of how this scene is being introduced. Dirk gives Quentin a quick back story on Randon so that he can break him in easily. When the time is right, he brings up the questions to him to see if he will be down to go all the way.
Randon Rave finishes his shower and the two have a quick introduction. Randon is already naked and jumps on the bed next to Quentin Gain. They both start stroking their cocks and Quentin starts to undress. Both of their cocks are out and Quentin suggests that they should stroke each other's dicks. Randon doesn't mind at all and for the first time he is stroking another man's hard throbbing cock.
Quentin Gainz goes step by step making sure Randon Rave is comfortable with what he's doing. Quentin gets a little closer and soon enough has his eager mouth wrapped around that hard dick. Randon starts to embrace Quentin's watery mouth and soon enough he's asking Quentin if he can suck on his dick. Quentin lets the rookie blow him balls deep. This is only a warm up cause soon after Quentin tells Randon that he should fuck his tight ass raw.
Quentin Gainz gasps as his hole opens up for Randon Rave's thick dick. Soon enough Randon is pumping deep into that ass. Randon loves the feeling of Quentin's ass. Therefore, now that he is completely comfortable they switch up the positon and Quentin starts to ride that hard thick dick deep grinding it hard until Quentin blows a hot warm load all over Randon's face. Randon continues to stroke his dick as Quentin worships his body and then he shoots his own load all over himself.
Watch as Randon Rave Fucks Quentin Gainz at Active Duty