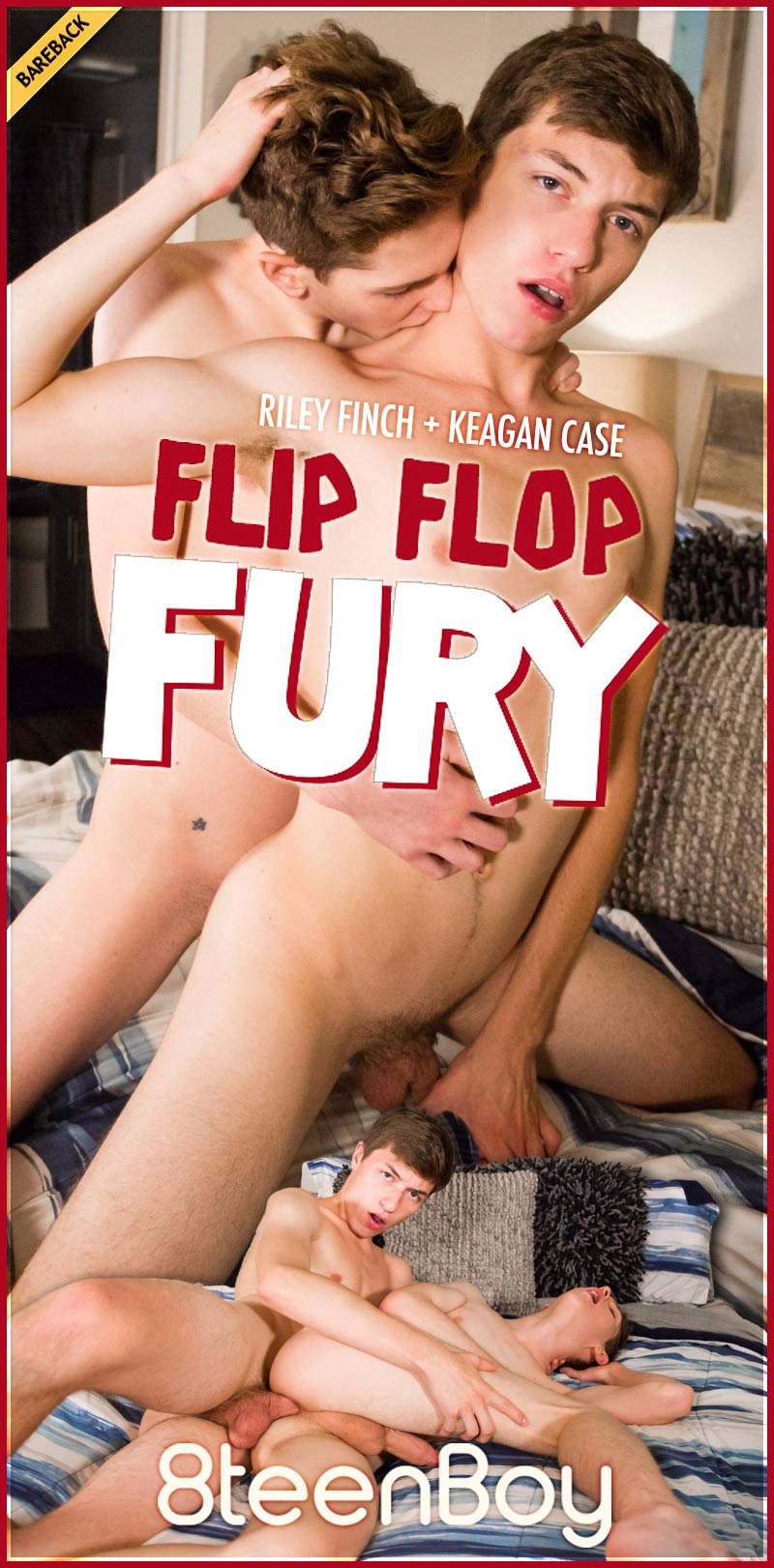 Keagan Case and Riley Finch in 'Flip Flop Fury' at 8TeenBoy:
Keagan Case and Riley Finch come out swingin' in this flip flop, dick down! From a fiery, lusty lip lick, cock sure Keagan pushes pretty boy Finch on the bed with orgasmic aggression.
From there, the boys trade some thrust-y hipped helmet before Keagan Case buries his handsome young face in Riley Finch's hot hole for a tongue fuck. Amped up and rock hard from delivering an aggressive ass eating, Keagan kisses Riley's rump with his rod, then stuffs that bulged up bad boy in balls deep and gets to bangin'! He holds the hottie by the ankles as he tears that hungry hole up!
Riley Finch's toes start to curl; then, the beautiful bottom tells his top it's his turn! Keagan Case quickly hops on all fours and receives a sack smacking, seat smashing from fuck master Finch. He throws ass back at the boy hard, meeting him halfway for a more powerful punishing while he looks back at his pole pounding partner.
Keeping it exciting, the dicknamic duo trade places once more; and, Riley Finch gets a ferocious fucking on his side while playing with his perfect piece. Keagan Riley's entire body tightens as he's filled with fuck; then, he explodes in absolute, orgasmic ecstasy!
Keagan Case's thick dick thrusts speed up as a cummy chain reaction starts to build. Then, he whips out and busts a wild wad all over Riley Finch's rump before cramming that freshly creamed cock back up his boy's butt hole.
Watch Keagan Case and Riley Finch at 8TeenBoy
Watch Keagan Case and Riley Finch at 8TeenBoy