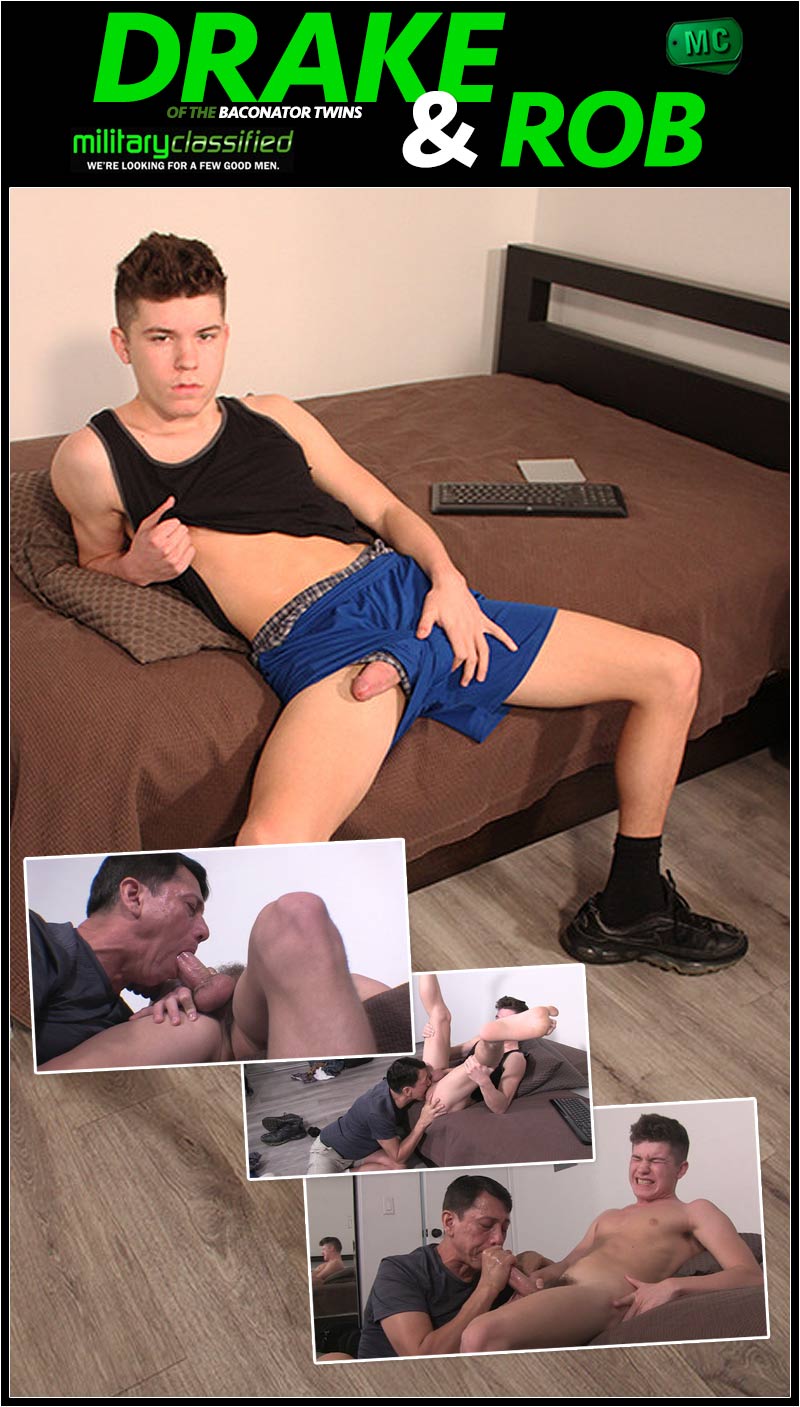 Baconator's Twin Brother DRAKE Gets Blown and Rimmed By Rob Navarro at Military Classified:
DRAKE (Baconator's Twin Brother) is back and this little 18 year old straight boy has returned to get his dick sucked drip dry by Rob. Watch as Rob manipulates this str8 guy and talks him into eating his ass which Drake was apprehensive about but in the end Rob sucked the life out of this boy and left him spent.
When we got to the studios Drake was in rare form and the nerves were definitely in full bloom. He is a quiet guy and reserved so he has a stern look about him but really is a nice guy once you get him out of his shell. Once I got the cameras rolling I went up to him where he was sitting on the edge of the bed and began my work.
I took his clothes off layer by layer including his socks and flipflops which smelled great! Then i made my way up his legs to his cock and by the time I had his pants off he was already sporting a half woody! I wasted no time in attacking his cock with my mouth and tongue and soon he was swelling up to his almost 7 inches.
After sucking him a little I asked him to put his legs over his head on the edge of the bed and he didn't really know what was going to happen next and went i landed my tongue in his ass, Drake was taken by surprise and even laughed a little since he was a little nervous about something he's never done. Always a first time for everything!
Once i got his legs back down I continued my cock sucking and this time I was all in and sucked and sucked this boy like there was no tomorrow! Soon I could tell that he was tensing up and I know what happens then and sure enough Drake jerked and tightened up stiff as he delivered his load at my command! Yum Yum!
Watch Drake and Rob Navarro at Military Classified
Watch Drake and Rob Navarro at Military Classified