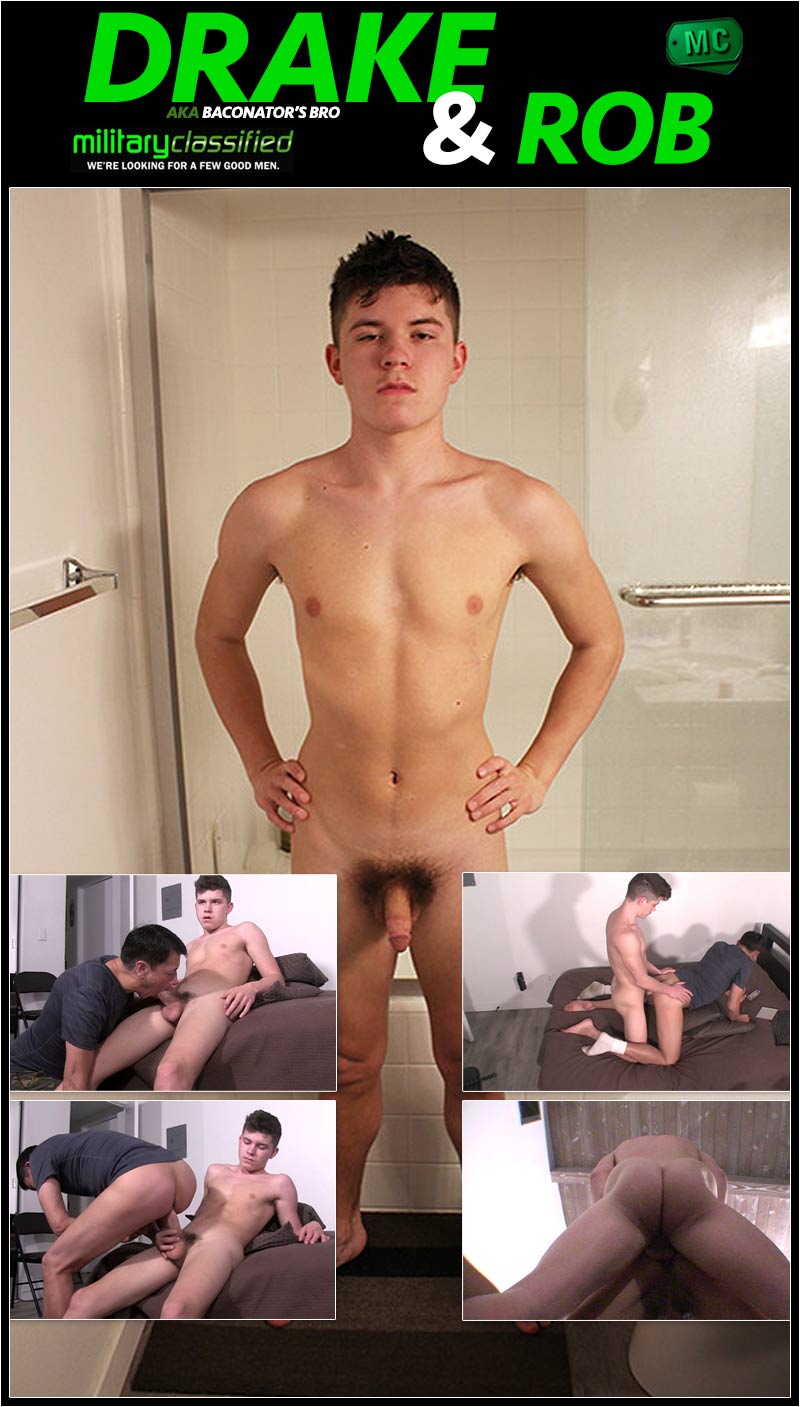 Baconator's Bro DRAKE Fucks Rob Navarro at MilitaryClassified:
DRAKE (Baconator's Bro) is back at Military Classified and ready for action as Rob Navarro takes him into his lair and forces Drake to fuck him in the ass Rob. Watch as this 18 year old straight boy who has never put his dick in a dude's ass, not only does it but delivers a load that surprised him as he dropped his load in and out of Rob's ass!
Drake is a young straight boy with a smooth tight body and a very indifferent attitude who really isn't very animated so when Rob talked him into fucking him, Drake was down for it immediately but wasn't very excited when we actually got down to the fucking. Straight guys are all different and react in a different and real way when approached with this kind of sex.
When the cameras started rolling, I had this boy butt naked in record time and began my work sucking his straight boy's cock to rock hard perfection. Once Drake was rock hard, I made my way up and took my shorts off and began to ride this boy side saddle. Now as you know this is his first time with a guy so I was surprised I even had him hard but little by little he was getting more and more interested.
I could see that as I rode his cock he would look down at his cock going in my ass but he did it in passing and trying very hard not to make it obvious. Well that lead to Rob bending over on the bed and Drake taking him from behind. He was doing well actually but was down playing the position and he couldn't deny how tight the hole was.
Finally I went to the edge of the bed and from behind Drake slide his 7 inch cut cock and drove it in and out not stopping for a moment. He fucked and fucked but in the end had to stroke it cock to near completion before he shoved it in as he was delivering his load. In and out I always say!
Watch as Drake Fucks Rob Navarro at Military Classified
Watch as Drake Fucks Rob Navarro at Military Classified