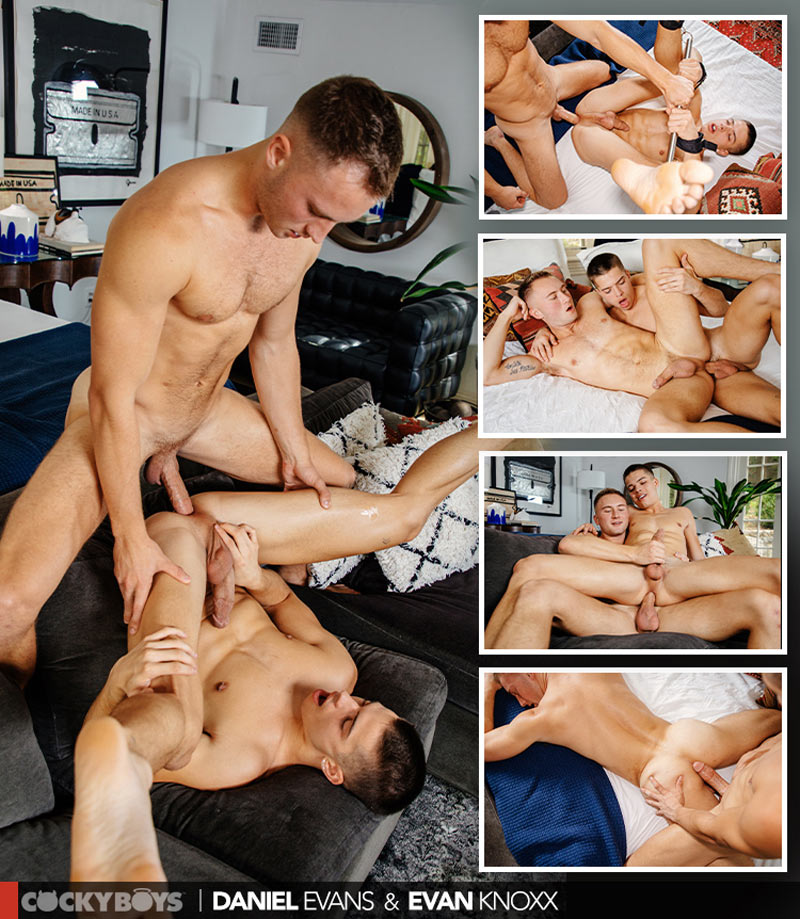 Real-Life BoyFriends Dan Evans and Evan Knoxx Flip-Fuck at CockyBoys:
CockyBoys Exclusive Daniel Evans is joined by boyfriend Evan Knoxx for a hot flip-fuck! As they tell it, two years after meeting online they hooked up and a fling turned into something real right away. Since then, this versatile duo has grown sexually, freely exploring their kinks..one of which they share with you here.
After a sensual make-out, Evan Knoxx makes his way down Daniel's body and sucks his cock & balls, knowing exactly how to push his buttons and put him in a dreamy state of pleasure. In time, Daniel returns the favor in a slightly different way but with the same results. Soon though Evan wants more and sits on Daniel's big dick and rides him every which way. Although they love this momentum, they decide to flip.
With Daniel Evans lying on his tummy, Evan rims him, lies on top of him kissing his brawny bod, and fingers his hole before opening him up all the way with his cock. It's not long before Evan Knoxx is pounding Daniel's hole just as he knows he likes it and can take it.
And yet they soon flip again with Evan Knoxx on his back being driven wild by Daniel Evans's sensually-driven cocksucking. Daniel has something extra for Evan: a kinky surprise! Daniel takes out some gear to strap Evan's wrists and ankles together and proceeds to eat his hole and fuck his immobilized boyfriend.
Ah, but there's more flipping! After Daniel Evans unshackles him, Evan Knoxx fucks him slow and deep from the side. But it's Daniel who tops at the end, drilling his boyfriend in a high-energy piledriver until Evan cums over himself. Daniel hoots his big load over Evan's balls and finishes up inside him. Our happy couple kisses once more, again showing us their Grindr love story come true.
Watch as Dan Evans and Evan Knoxx Flip-Fuck at CockyBoys
Watch as Dan Evans and Evan Knoxx Flip-Fuck at CockyBoys