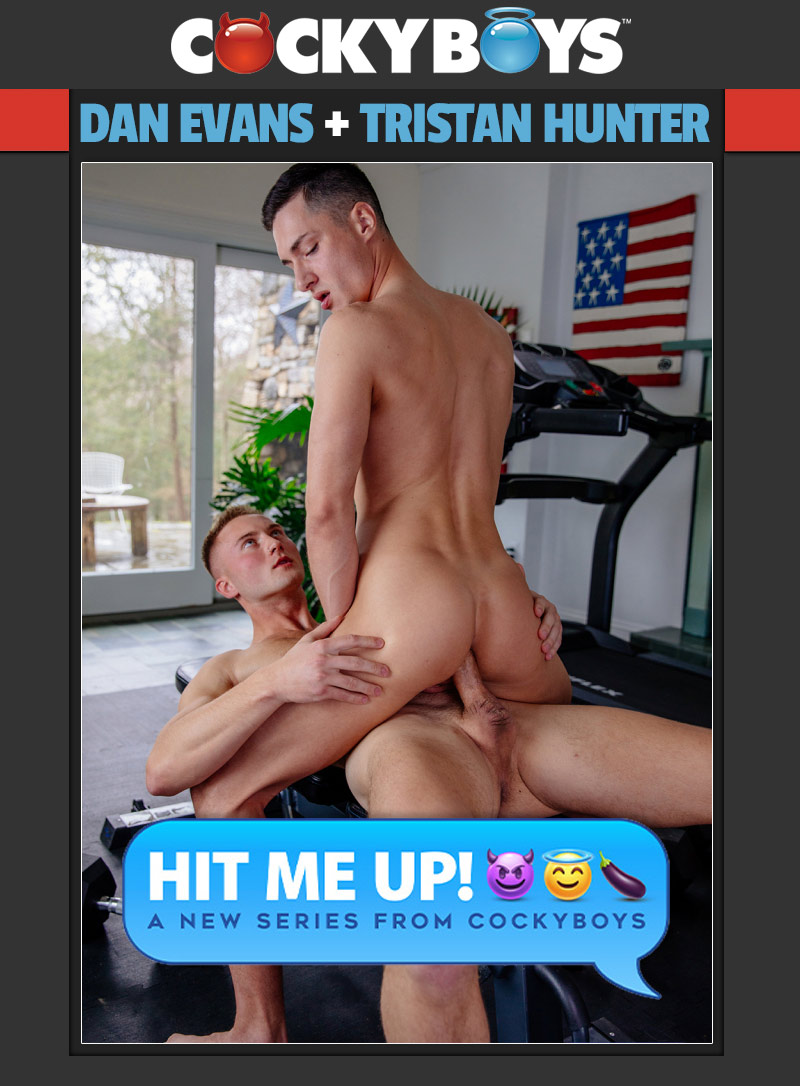 Tristan Hunter and Daniel Evans Flip-Fuck in 'HIT ME UP, Episode 4' at CockyBoys:
Daniel Evans and Tristan Hunter don't text each other or swap pics to initiate a flip-fuck hook-up. They do it old school by cruising each other while working out and since they're alone, they do it right out in the open. Eventually Tristan makes his move, spotting Daniel on his bench presses and standing over him with a big bulge in his gym shorts. After a set, Tristan gets his cock out and feeds it to eager Daniel who practically swallows it.
In little time Tristan is between Daniel's legs sucking him as he lies back on the bench and as much as they enjoy this, they get even more excited watching themselves in the mirror. So, when Tristan mounts Daniel and rides him, he just has to look back periodically and see his hole swallow Daniel's cock. Of course turning around in a reverse cowboy gives Tristan the best view of himself riding Daniel and taking all his hard upward thrusts. Daniel though wants his turn to be fucked and stands up, slightly bent over and holds onto some of the equipment so Tristan can slobber over his sweaty hole, then fuck him. Daniel takes all his deep pounding before they switch places and Tristan gets plowed. Before they go over the edge, Daniel gets Tristan to sit down so he can suck him and flex for him for a little muscle worship.
The guys switch it up one last time as they return to the bench and Tristan fucks Daniel on his back. This time there's no stopping and Daniel shoots a huge load over himself, which triggers Tristan to blow his load over Daniel's hole and seed him. They make out once more and they're wiped BUT they sure got in a good workout!
Watch as Tristan Hunter and Daniel Evans Flip-Fuck at CockyBoys
Watch as Tristan Hunter and Daniel Evans Flip-Fuck at CockyBoys