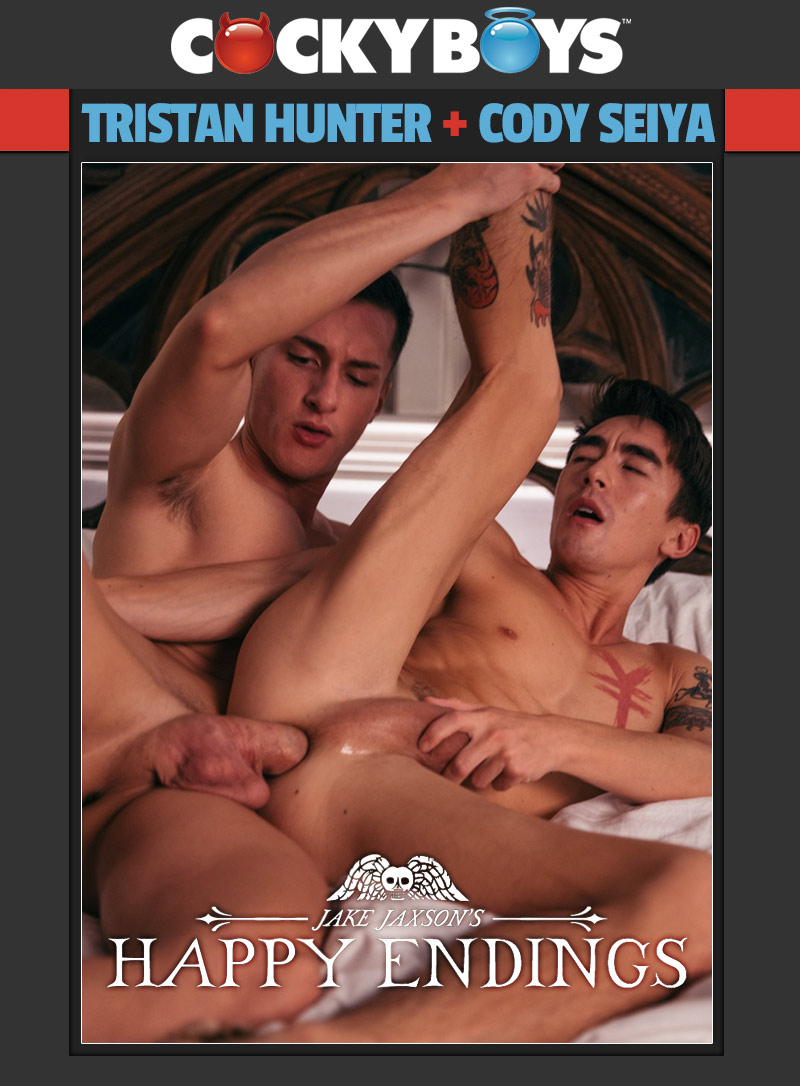 Tristan Hunter and Cody Seiya Flip-Fuck in 'Happy Endings, Episode 2' at CockyBoys:
The continuation of Jake Jaxson's HAPPY ENDINGS focuses on city boys Tristan Hunter & Cody Seiya as they settle into their new home in the country and not only adjust to its quiet solitude, they're transformed by it. Tristan is transfixed by the house's secrets, especially the mysterious attic, and on their first night, Cody goes from affectionate bottom to intensely passionate hard-driving top in a wildly hot flip-fuck. And it all happens while unseen spirits are watching and waiting to make their move.
Tristan Hunter and Cody Seiya settle in and boldly make the house theirs with heated, vocal sex in the deathbed of the former owner. It's an easy transition from passionate kisses to Cody lovingly sucking Tristan, who shows the same romantic passion when he sucks Cody and eats out his ass. And when he fucks Cody deep every which way, Tristan is very much the giving top.
When Tristan Hunter drills Cody on his back, influential forces spark a flip-fuck. Cody Seiya shows he's an exceptional true vers and like a man possessed literally flips, hungrily eating out Tristan's hole. Cody then pounds Tristan, awestruck by the change in their dynamic. The intensity builds to Cody fucking a load out of Tristan and then shooting his load over him.
Powerful sex has the predictable effect of putting the guys to sleep, BUT in the middle of the night Tristan Hunter gets up and sneaks up to the attic in order to privately explore some mysteries he may have uncovered. However, restless spirits have plans of their own involving Cody Seiya and Tristan is powerless to stop them….
Watch as Tristan Hunter and Cody Seiya Flip-Fuck at CockyBoys
Watch as Tristan Hunter and Cody Seiya Flip-Fuck at CockyBoys