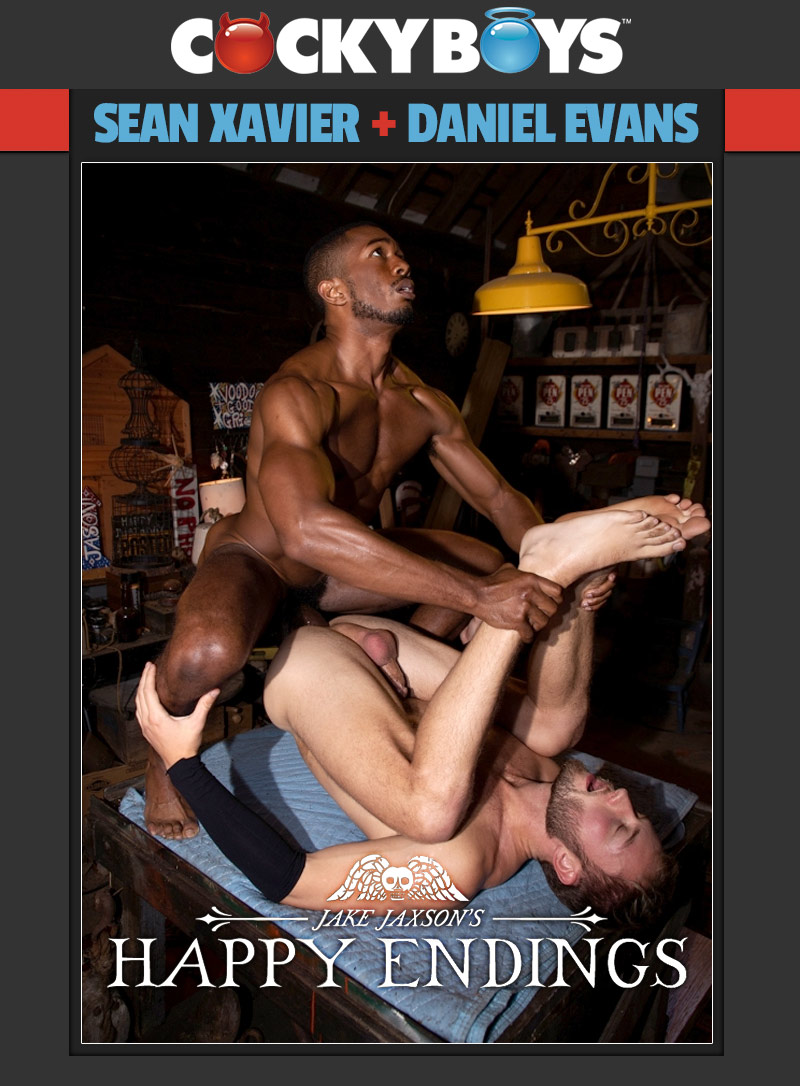 Sean Xavier Fucks Daniel Evans in 'Happy Endings, Episode 3' at CockyBoys:
Happy Endings Part 3 introduces Sean Xavier & Daniel Evans as the hot and kinky exhibitionists living near Cody Seiya & Tristan Hunter's newly inherited old house! You'll see Sean and Daniel both boldly show themselves in a different light in an intense top/bottom dom/sub dynamic!
After receiving a welcoming gift basket from their new neighbors, Cody goes exploring, finds peculiar totems on the grounds and happens upon the open garage where serious dom Sean Xavier is "training" masked pup Daniel Evans. Slightly nervous Cody excuses himself and on the way back home has an unsettling encounter with stranger Lane Colten. Meanwhile dom Sean gets back to sub Daniel.
Sean uses quietly forceful voice commands which Daniel unfailingly obeys while on all fours and Sean keeps him in line with mild physical discipline, teasing cock & ball play and incentivizing praise. Things intensify when Sean gives Daniel his huge cock and plows him while training his hole to take every inch. As a reward, Sean strips off Daniel's mask and lovingly worships his cock and body and kisses him.
The training resumes when Sean face-fucks Daniel and 69's with him then deep-dicks him on his back with passionate, verbal dominance. Sean fucks a load out of Daniel and his loving passion keeps going until he fucks Daniel to a SECOND orgasm! This leads Sean to breed Daniel then kiss his happily pleased "good boy".
Nearby, human-produced wolf howls fill the air, a communication signaling a new encounter…
Watch as Sean Xavier Fucks Daniel Evans at CockyBoys
Watch as Sean Xavier Fucks Daniel Evans at CockyBoys