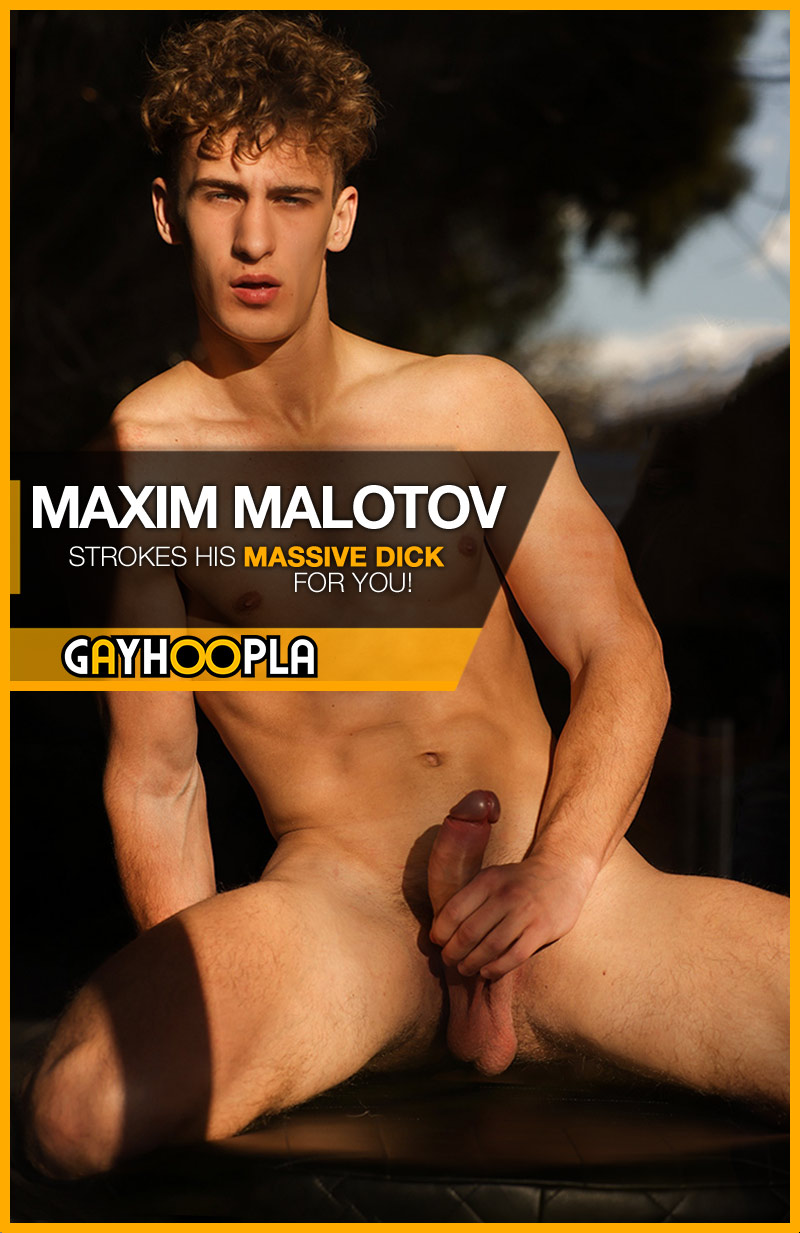 Maxim Malotov's First Pro Porn Performance [A Climactic Show to Remember] at GayHoopla:
Maxim Malotov has been eagerly awaiting this moment for a long time; his first performance in front of the camera for an adult production. With one goal in mind, Maxim is determined to satisfy his viewers with a show they won't forget.
Starting with some close-ups and oiling, Maxim wastes no time, stripping off his underwear and exposing his biggest gift. Taking a seat to get started, Maxim's lean physique stands out as he strokes his dick in the dim light of the camera.
Position One: Getting Started:
Moving into position two causes a slight confusion, ultimately blessing us with an extra round of humping. Look at the way his cock hangs as he thrusts! Maxim Malotov quickly figures things out and lays on his back, giving us a full view of his face, body, cock, and feet! This time, Maxim knows what's up, flipping over and thrusting away as we watch his ass move back and forth.
Position Two: Flipping Over:
Maxim Malotov is not shy at all about showing us his perfect hole. He spreads his cheeks each time he pushes his ass back into the camera. There are no cuts for Maxim as he stands up, working for that cumshot! Don't skip too far!
Position Three: Working for the Cumshot:
As Maxim's performance reaches its climax, he sprays a massive load all over the floor, stroking out every drop as the camera gets a close-up. This is no doubt the moment Maxim has been waiting for, and he has found his calling.
Maxim's Climactic Finish:
A performance like that works up quite a sweat, but Maxim Malotov isn't finished yet. He takes it back to the shower to clean off, while the audience gets one final look at the newest star on the site.
Maxim's Post-Performance Clean-Up:
With Maxim Malotov's climactic finish complete, he heads to the shower to clean off. This performance was undoubtedly the moment Maxim had been waiting for; and he has found his calling in the adult film industry.
…
Interview: Maxim Malotov is Ready to Blow Up!:
Maxim Molotov, hailing from Ukraine, is set to make his debut in his first ever adult film with a premier company. Despite the language barrier, Maxim is hyped to showcase his talents and make a name for himself in his new home. With a height of 6′ and a massive swinging cock, Maxim is poised for success in the industry; and his winning attitude is sure to take him far. Don't miss out on this exciting new addition to the adult film world.
…
Watch Maxim Malotov at GayHoopla