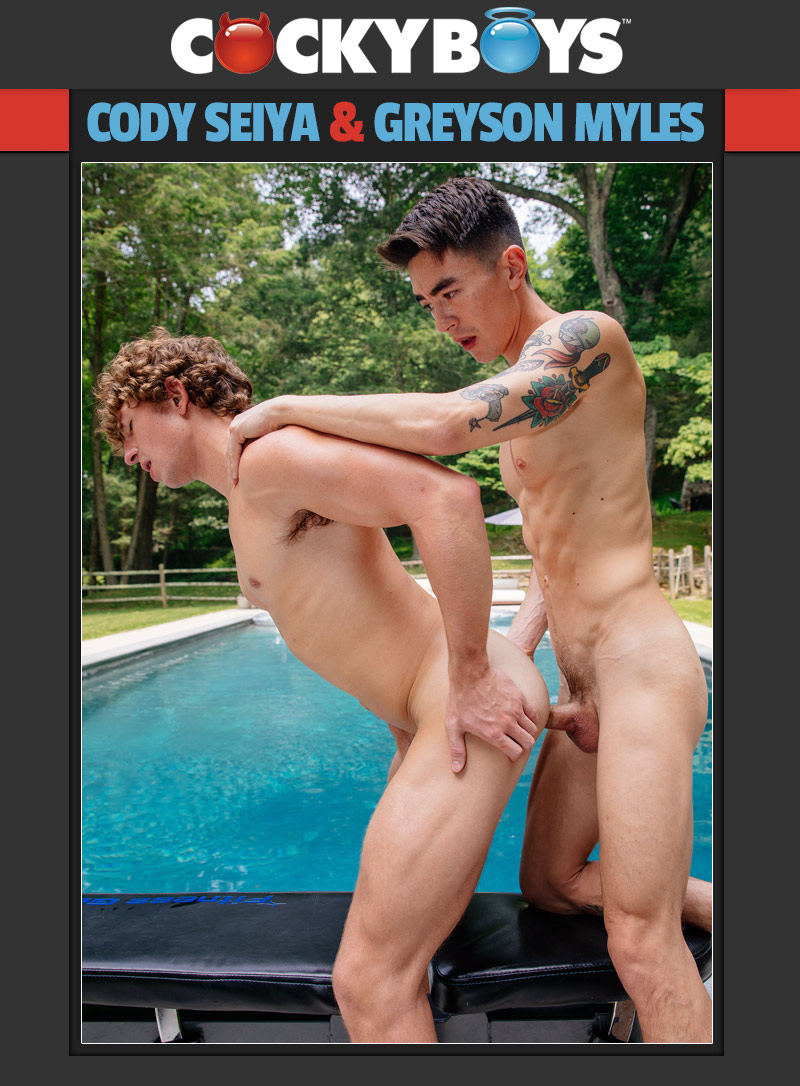 Cody Seiya Fucks Greyson Myles Poolside at CockyBoys:
CockyBoys Exclusive Cody Seiya and Greyson Myles have a summer workout for you: a little weight training and lots of sexual cardio—and a good dose of protein! The guys lift weights by the pool, but they're so hot for each other that it's not long before Greyson goes from spotting Cody to making out and sucking him with the same sensual affection.
Cody Seiya gets to give Greyson some hot sucking too but he mostly can't get enough of eating out what he joyfully describes as Greyson Myles's "grade-A hole". Of course, Greyson wants Cody's "grade-A dick" to fill him and Cody happily obliges, pounding him on the workout bench which is thankfully offers sturdy support for their high energy sex.
The workout bench is also built for multi-position fucking so Cody Seiya can drill Greyson Myles on his back and with minor adjustment Greyson can ride Cody. In fact, they enjoy it even more this way. Finally, Cody pulls out to give Greyson one of the biggest, thickest facials possible and they both slurp it up as well as Greyson's load when he shoots. What's left? Hitting the showers of course!
Watch as Cody Seiya Fucks Greyson Myles at CockyBoys
Watch as Cody Seiya Fucks Greyson Myles at CockyBoys