UnGloryHole
At UngloryHole see straight guys think they are going to get free blowjobs from a girl, when its really a guy!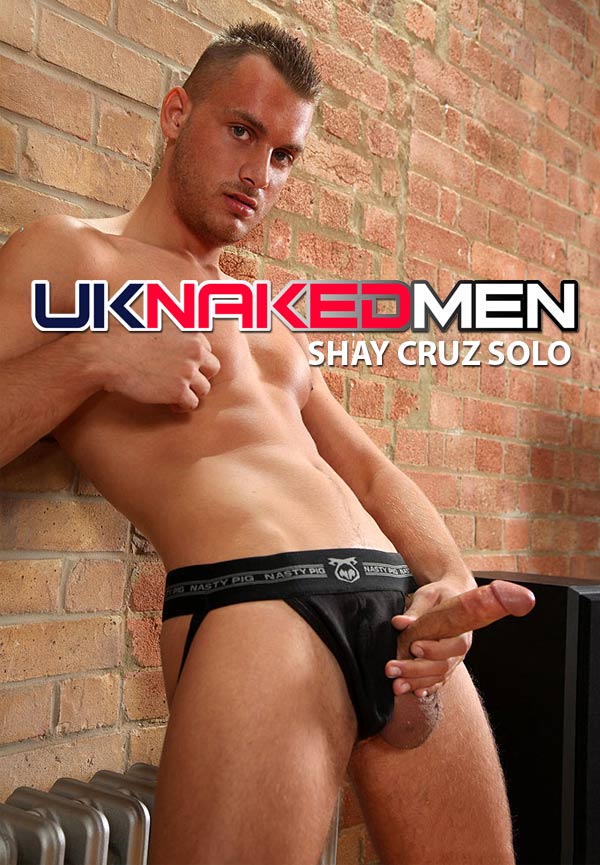 Shay Cruz, blonde, slender, toned, handsome, cheeky, HUNG and SO sexy, After this – his first ever time infront of the camera – he was nick named Shay THE SPRAY.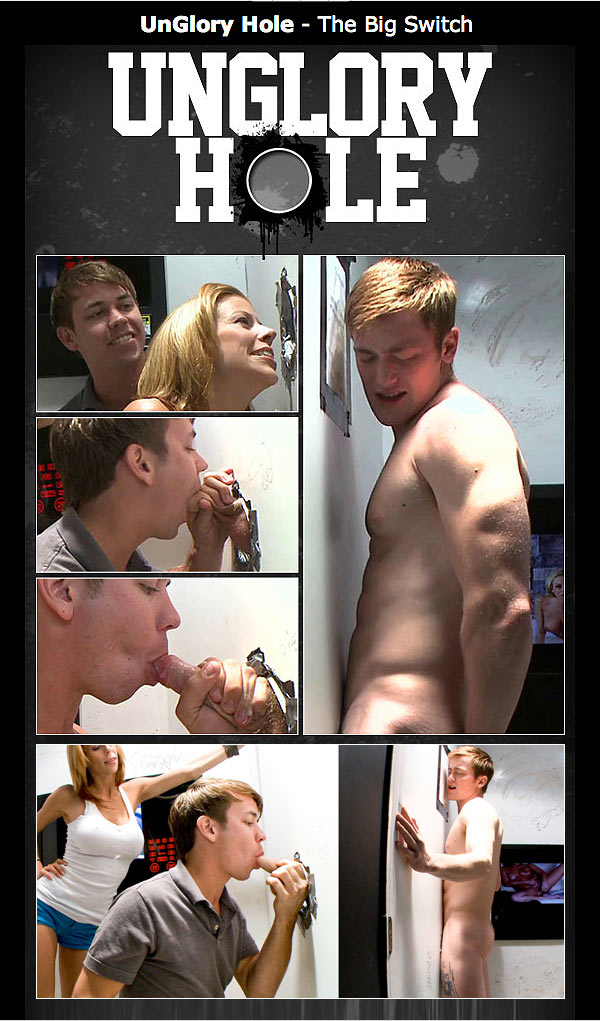 Poor Rick. He recently broke up with his girlfriend and the poor guy was feeling lonely. He was turned on to our services and came to us looking for a free blow job from our big tittied little lady. Too bad Ricky Daddy doesn't know how we roll here on Unglory Hole!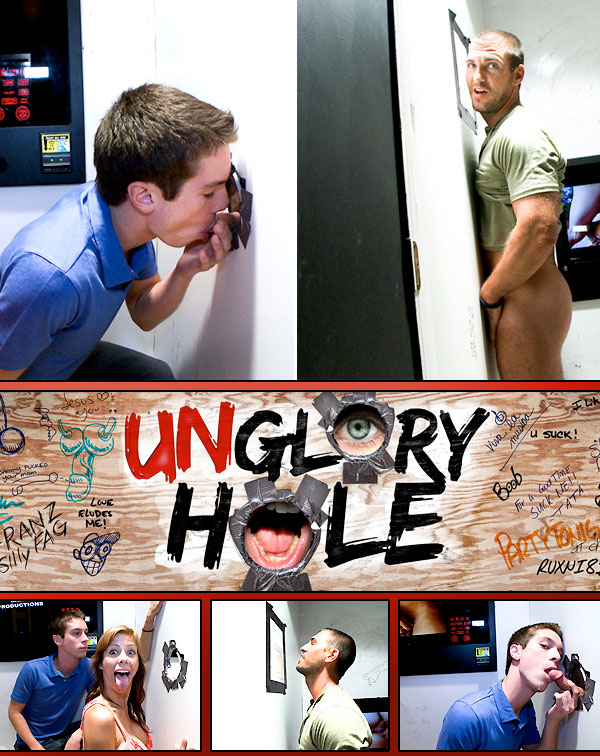 You know, no matter how many times we pull this off, it never gets old. As usual, today I "hooked up" my buddy with a sweet blow job. What he didn't know that was that the sweet tits that got him to put the cock in the hole do not belong to the set of lips that wrapped around his dick. But I suspect that, to you guys, it doesn't matter how we get these guys to put the cock in the hole, as long as one dude blows another. The unsuspecting part of the whole thing is pretty sweet though. On today's UngloryHole you guys get to see Parker and Dominic get nice and cozy with each other. Check it out!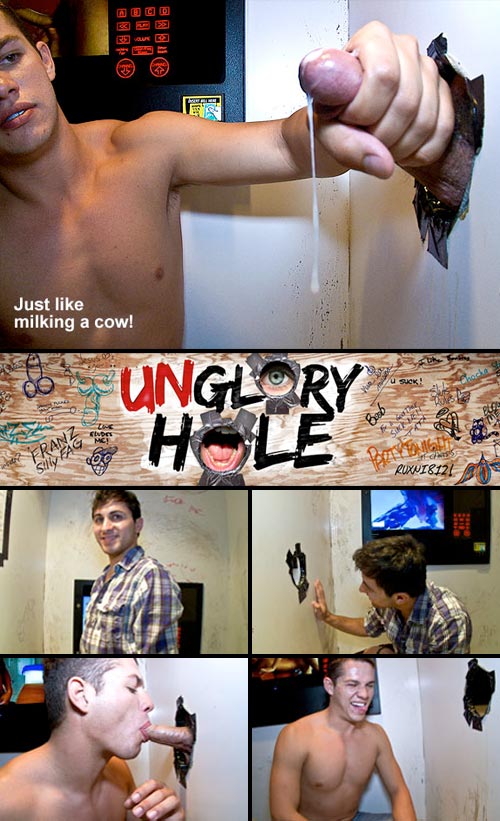 Okay my loyal throngs of UnGloryHole fans I've got a great one for you this week.We got this overly excited dude ready to get his cock sucked by the hot "chick" on the other side of the wall but what he doesn't know is that his ding dong is being polished by some dude.. It's almost bearable to watch without bursting into laughter at how this guy thinks it's really a girl on the other side. You guys gotta check this one out….lol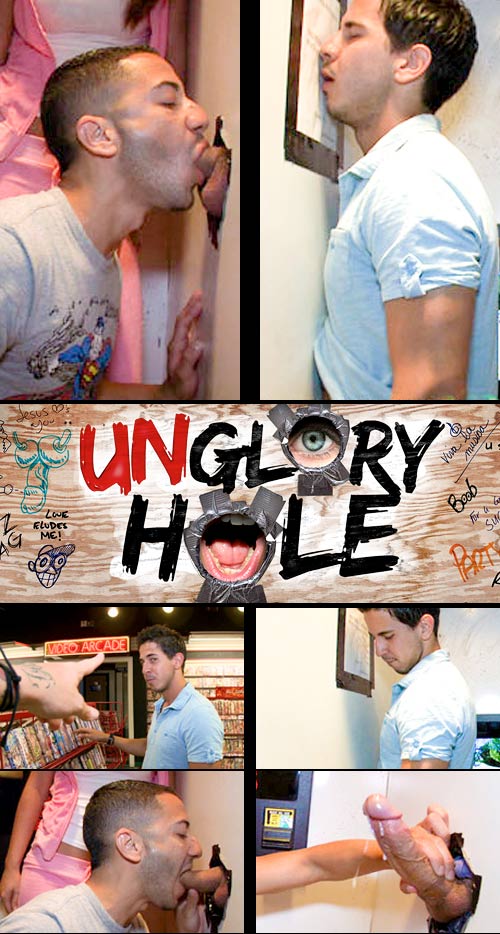 Wassup fellaz??? We got this guy who emailed us interested in a free bj (from a woman) & the minute we get there, he's in a super rush to get down to business!!!! What do you want me to do?? let him rush right ahead, but that caused some technical difficulties because the girl/guy weren't ready when this impatient horny guy walked in the booth!!!! So i stalled for a bit & VOILA! that angelic face appears through the hole & once again the impatient little whips his cock right out & sticks it through…. He had that one coming>>>>> ENJOY!!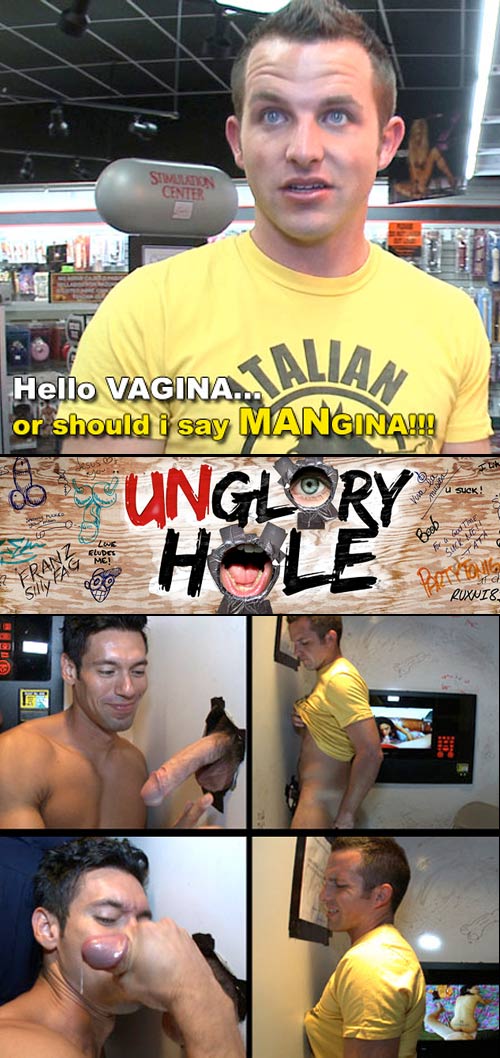 Ok my loyal throngs of UnGloryHole fans I've got a great one for you this week. We get this guy thinks he's an Italian Stallion more like a pony if you ask me but any who we get this guy into the back and right away our girl tells him to stick his dick in the hole. Well as you all know this is where the fun begins and our little pony is getting sucked off by some guy. It's almost bearable to watch without bursting into laughter at how this guy thinks it's really a girl on the other side. You guys gotta check this one out….lol.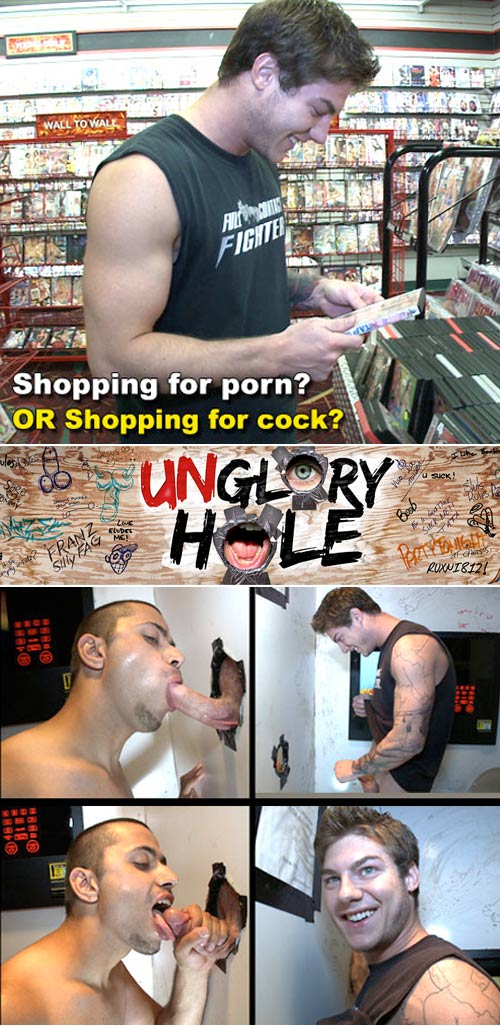 Today we got this dude in search of a free blow job I like to call "my kind of DUDE" a dude that does not ask too many questions!! He trusts us, & couldn't wait so bad this guy was already inside by the time I got there!! Anyway folks, he actually got a glimpse of our BAIT through hole "which never happens" so you know now he was too happy to pull his tool out RIGHT AWAY!!!!! Boy was he excited :) Enjoy

Wassup guys???? Today we got us another Texan who wanted a piece of this FREE BLOWJOB & like we do with anyone one else…… OF COURSE we accepted his request… He was pretty cool I have to admit but guess what??? He wasn't cool enough for me to tell him "hey dude, you're a real cool guy, I'm not gonna let you do this"… FUCK NO!!!!!! : ) THIS GUY WAS WAYYYYY!!! TOO EXCITED MAN!!!! & he got more than a BJ he got some ASS THAT'S RIGHT LITERALLY "SOME ASS" anyway good times man loooolll… Enjoy!!!!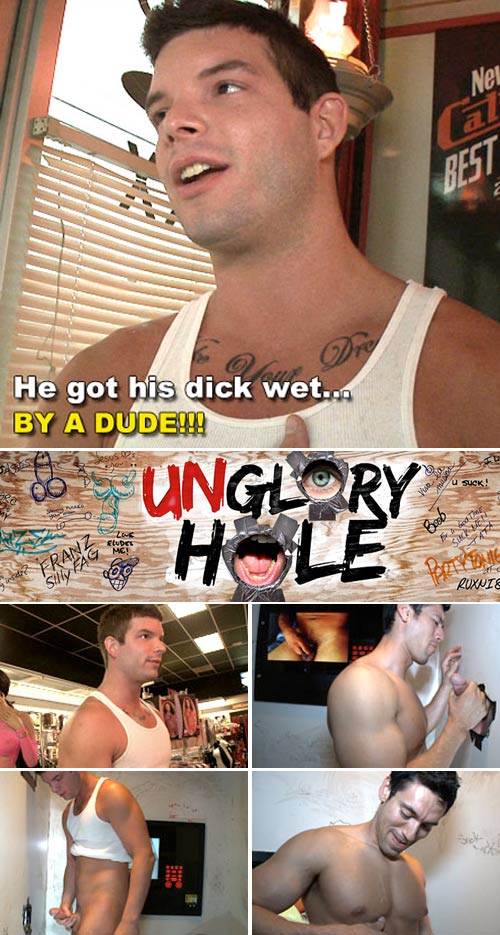 This is when our job gets a little bit "complex" , when we get someone who ask too many questions, this guy kept asking over and over if he can see the girl. After going back and forth explaining to this guy that he cannot see her, we got him in booth and all it took was that little sexy voice to greet him and his pants came right off…. He has no idea this amazing blow job is from a MAN…he will now LMAO…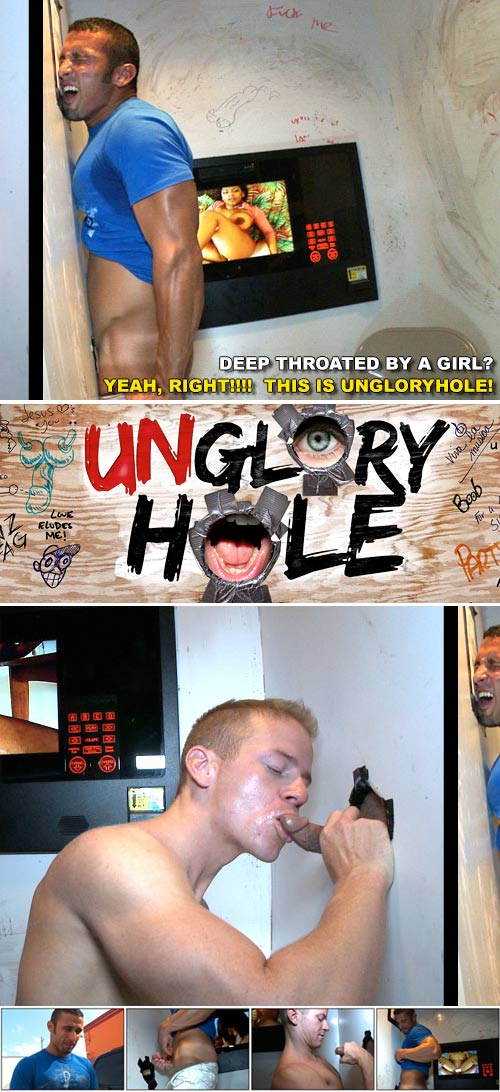 So this week Diego contacted me. He's the muscular player type. There's nothing gay about this guy. He loves the ladies. So naturally getting his dick sucked by a stranger is right up his alley. He was a little nervous at first but after a few reassurances he was game. He loved getting his dick sucked. All the while he had no idea who was on the other side of this glory hole.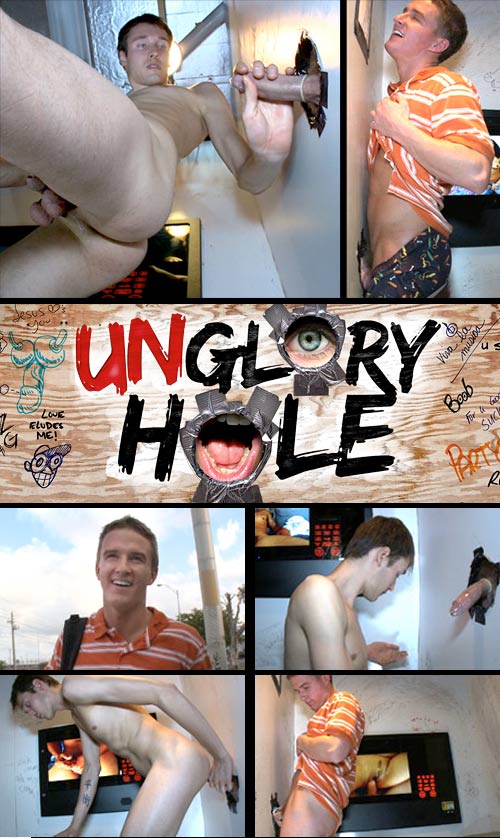 So this week my friends I got a brand new victim for you at the Unglory Hole. Meet Tucker a 19 year old naive college boy who enjoys riding the bus and apparently getting blowjobs from hot women through holes in sex booths. What Tucker doesn't know is that we've secretly replaced the hot girl for a guy. Yes my friends all I have to say is I love naive college boys looking for free blowjobs cause as we all know everything has it's price…hahahahaha!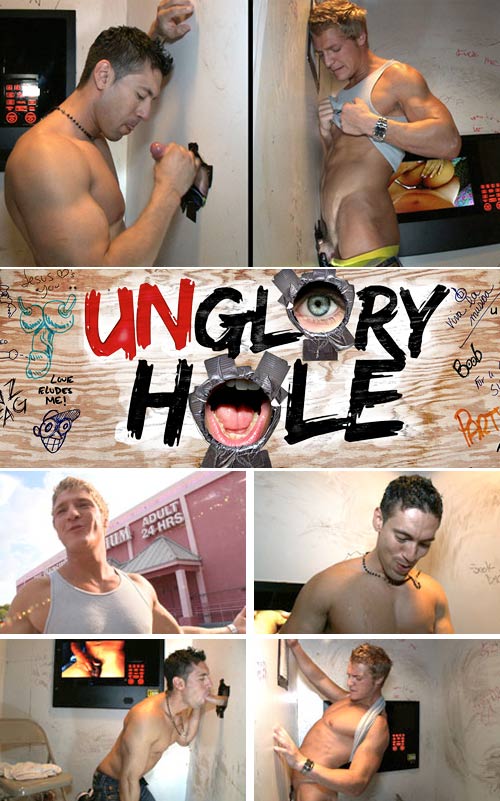 Today we got a guy interested in a free blow job. He was asking a lot of questions about the girl behind the hole, he wanted to see her & we had to explain to him that she doesn't want to meet anyone, she just loves to suck cock! So after awhile he decides to proceed to his BJ from an unknown face (or gender) LOL… Anyway he had a BLAST!!! Check it out!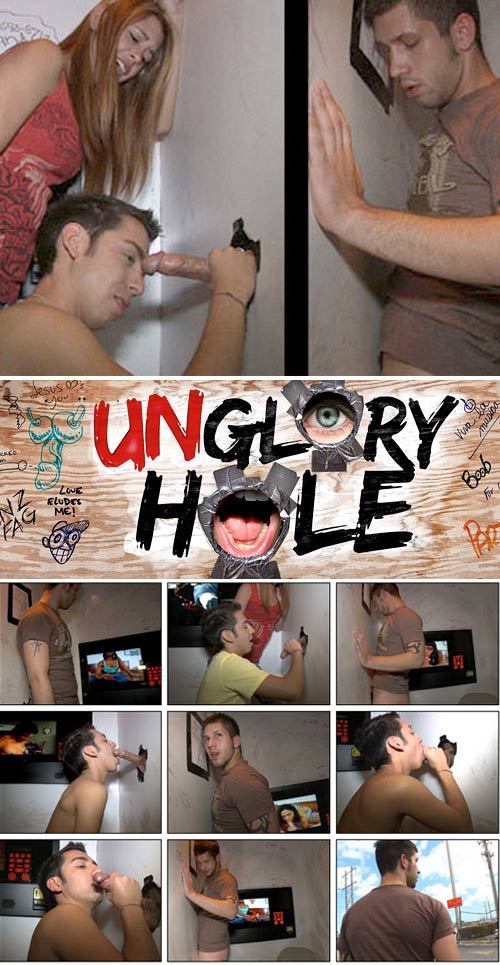 So this week we found this kid Jake. He responded to one of our internet ads. Jake is from Texas and he was fresh of the jet and still wet behind the ears. He was a bit skeptical when he showed up but I convinced him everything would be okay. From there we went in the back room. He dropped his pants and got a killer BJ. Just not from who he expected. He still has no idea. I'm guessing he will soon!