College men are something of a hobby here at Waybig. But we're a little slow when it comes to literary devices, you know? So when we tasked ourselves with reviewing CorbinFisher.com, we were expecting a variety of things. Maybe some high-schooler's soccer blog, or potentially worse, a directory of all things angling.
Then we read the "about" page: "Have you ever wondered what that cute intern at the office or that college guy from the gym might look like slowly stripping his clothes off and pleasuring himself to a toe-curling orgasm upon request?"
Um, sure have! The fact is, you'd never know what steamy frat dudes and random, library-stacks hookups you'll find hiding in the nooks and crannies at CorbinFisher.com. And while we're still puzzled by the name, we're also still burning the midnight oil taking in all the handsome, fresh-assed guys on this crisply designed, well-executed site.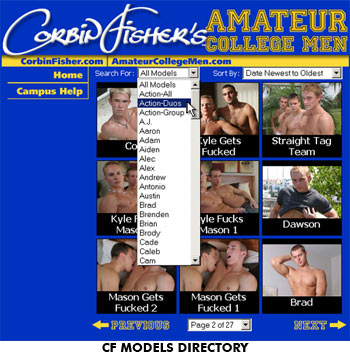 First, the highlights. CorbinFisher promises 2 new videos a week – one hardcore action – loaded with guys from 18-22 years old, with rockin' bodies and cute faces. We can attest to the quality of men posted here, from the muscular and big-dicked Cade, to the angelic Dawson and his blond hair – his all-over blond hair, to the extremely hung part-time barista Marco (yes, we'll take ours extra foamy, please).
The kludge factor is nearly nil, too. You can search models by name or the action by attributes – big or small, young or old, by name or by group. CF has a nifty design, with very collegiate blue-and-yellow graphics that will make you feel like you're in a locker room at the University of Michigan.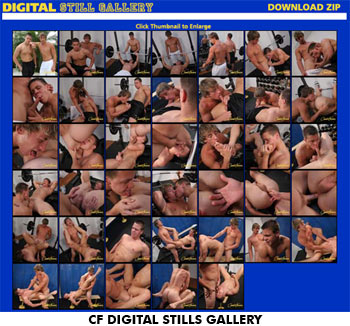 The downsides? Well, you have to pay for it. And if you're a Quicktime buff, the Windows Media-format clips will bum you out. But if you make the switch, you'll be able to download the clips right to your machine for repeated viewing. And if you're all about totally straight guys who managed to get tricked into fucking and sucking, well, CF says it grades men on the hot scale, not on their inability to accessorize. Gay gets play here too, although it's honestly hard to tell which hardbodies are on which side of the fence.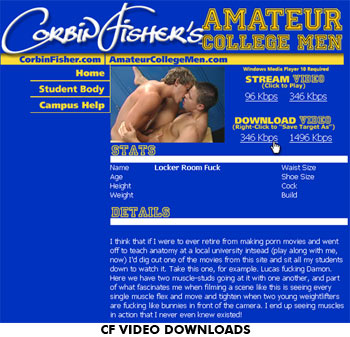 No matter if they're straight, gay or whatever-for-pay, CF's models come across in loads of high-quality images and video. For sure, this site's your ticket to carpal-tunnel syndrome no matter which hand you use to click, point and shoot.
Corbin Fisher Price Points At the time of review

7 days – $21.95 – Renews at $26.95 per month until cancelled.
30 days – $26.95 – Renews at $26.95 per month(after 3 months membership fee drops to $23.95 per month until cancelled).
30 days – $31.95 – One time charge.
90 days – $66.95 – One time charge.
Visit CorbinFisher or check out our other posts on CF