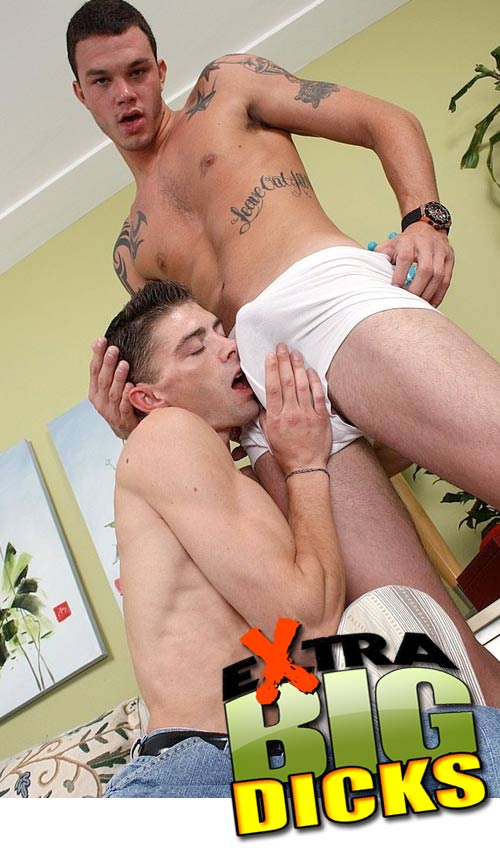 Watch Cliff Jensen & Val Aris at ExtraBigDicks.com
ExtraBigDicks wrote:
November is upon us, but wait …there's more. Today on ExtraBigDicks.com, one lucky guy will have more than just November thrust "upon" him. Lucky fuck! Hailing from the Windy City, the first and afore mentioned thrustee is Val Aris. The second is Cliff Jensen. Cliff is 21, a meager 6'3" tall, has seductive blue eyes and thrusts a thick 8½" cock. Val lets his hands do the talking as he starts feeling up Cliff's chest and abs. Cliff hauls out his fat cock waving it in the air teasing Val . Kneeling before him Val goes to work worshipping at the Cliff cock temple. Cliff's balls are pulled up tight as Val continues spit shining his rod. From there they take it bunk style as they maneuver into a hot 69. Cliff's thick cock appreciates the attention but it's gonna want more…"Love the way that asshole feels on my dick" groans Cliff as Val slides his hot ass down to the hilt. He starts to ride Cliff's thick cock as he bounces up and down on it wanting all of it inside him. Cliff the! n stands and bends Val over so he can keep fucking him doggy style. Cliff means business as he starts to hammer that thick dick home. Cliff then flips Val over and gets him into missionary. Once Val's tight hole gives way he starts fucking him faster. "How do you want it?" Cliff taunts while still buried inside him. "Shove it up me!" Val orders as Cliff obliges. Cliff picks up the pace heading towards the home stretch. Cliff then sits back down to let Val ride his cock some more. This position does the trick and Cliff quickly flips Val over onto the couch as he pulls out and shoots all over him. Val isn't far behind as he unloads all over himself adding to the sticky scene.