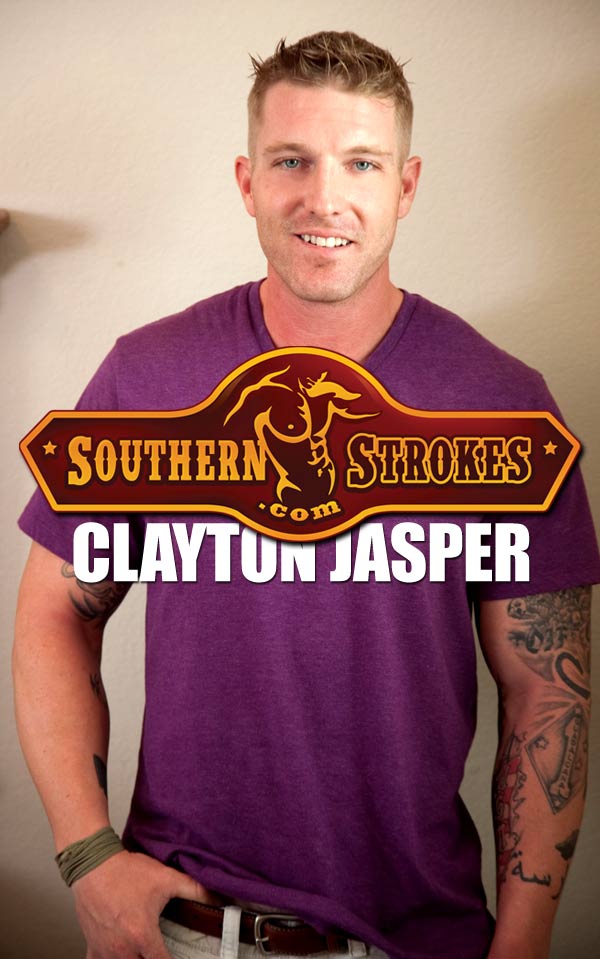 Watch Clayton Jasper at SouthernStrokes
I knew that a big boy was showing up at the Ranch for a shoot but Holy Shit I had no idea just how beefy Clayton was until he stepped out of his truck. To top it all off, Clayton has this shy boyish manner about him but he his all man.
Clayton is 6′ tall and all 200 lbs of him is lean muscle. I have felt some hard biceps in my days but Clayton's 18″ guns were as hard as cement and so was his chest and, oh yeah; his 8 pack abs. Clayton is definitely shy but you don't work hard for a body like his and not like to show it off.
Clayton flexed a little for us which made him a little embarrassed but at the same time he was loving the attention. Clayton flexed a little for us and then I had to get a look at that beefy ass of his. I took him back to his military days and had him bend over and grab his ankles so that we could get a good look.
Clayton didn't bother getting on the bed, he stood their naked with his muscles flexed as he worked on his fat cut cock. The more he worked his cock closer to exploding the more his muscles twitched as his ripped body glistened with sweat. As if he wasn't perfect enuff, Clayton rewards us with a fucking gusher of cum that founds its way to my hair.