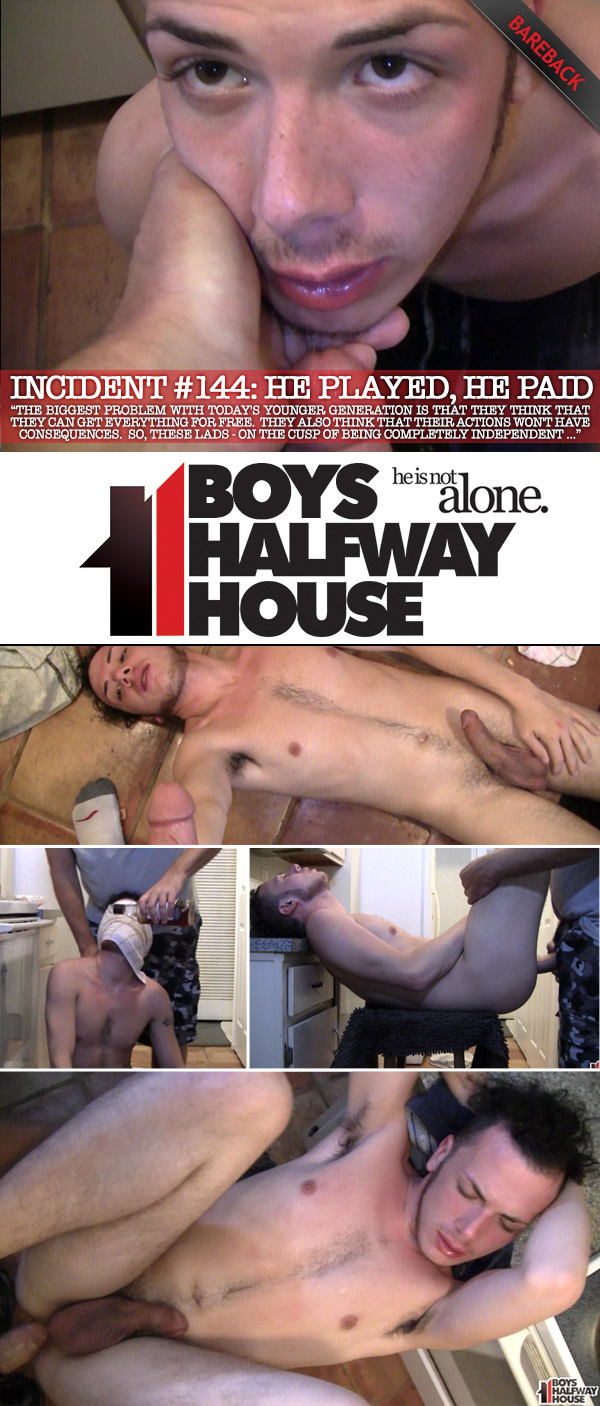 Watch Incident #144 at Boys Halfway House
The biggest problem with today's younger generation is that they think that they can get everything for free. They also think that their actions won't have consequences. So, these lads – on the cusp of being completely independent and productive members of society – fuck up yet still believe that they shouldn't have to deal with the blowback. This guy for instance: He's a new resident who has a problem with more than just the bottle. Pretty much every word that comes out of his mouth is either a lie or general blather. Even worse, like so many others he thinks he can hide things from the House Managers (such as a bottle full of illicit liquid).
Needless to say, most of the House Managers have been doing this for years, and we all know everywhere there is to hide a roach, let alone a liter. So this fuck up needed to begin learning his lesson a lot faster. After producing the evidence and confronting him with it, I proceeded to humiliate him faster than he knew what was going on . When I pulled out my cock, he started stroking it gently, and I thought that was a good start. However, his pretty little lips around my cock was a lot better. This limp-wrist can really suck a mean pole! It's so much better when they have a lot of experience because they don't fuck it up with their teeth. This guy had probably been to every house party on every night of the week for miles around since he was allowed to be out past 9pm, just scouring the dark living rooms for inebriated guys to take advantage of. It's a damn good thing we get the guys checked before they enter the House, cause otherwise I'd be afraid guys like him had the cooties. Long story short, after all that partying and cock-sucking, he probably just couldn't stop the drinking, even when there wasn't a party. So, that's how it started. But it ends at the House. Any cock sucking he does is going to be on our terms, and completely sober.
Not only the cock sucking, but the fucking too. His dirt pipe is going to be shining like a genie's bottle by the time we are finished with him. I made sure to be the first to welcome his butthole to the House. Trust me, this guy was tight as a motherfucker. I was in such complete shock at that, too, because he kind of seems like the kind of guy who's fun shaft would be wrecked all to hell. Lucky for me, it was more like a virgin hole, even tighter than some virgins. After fucking him in four different positions, it wasn't so tight, and he definitely looked like he had had enough. I made sure he went ATM on my dick, though, and I made sure he took my load in his mouth. After all the slapping and spitting, him swallowing my nut and then getting bitch slapped again just MIGHT be what he needs to get on the right track.