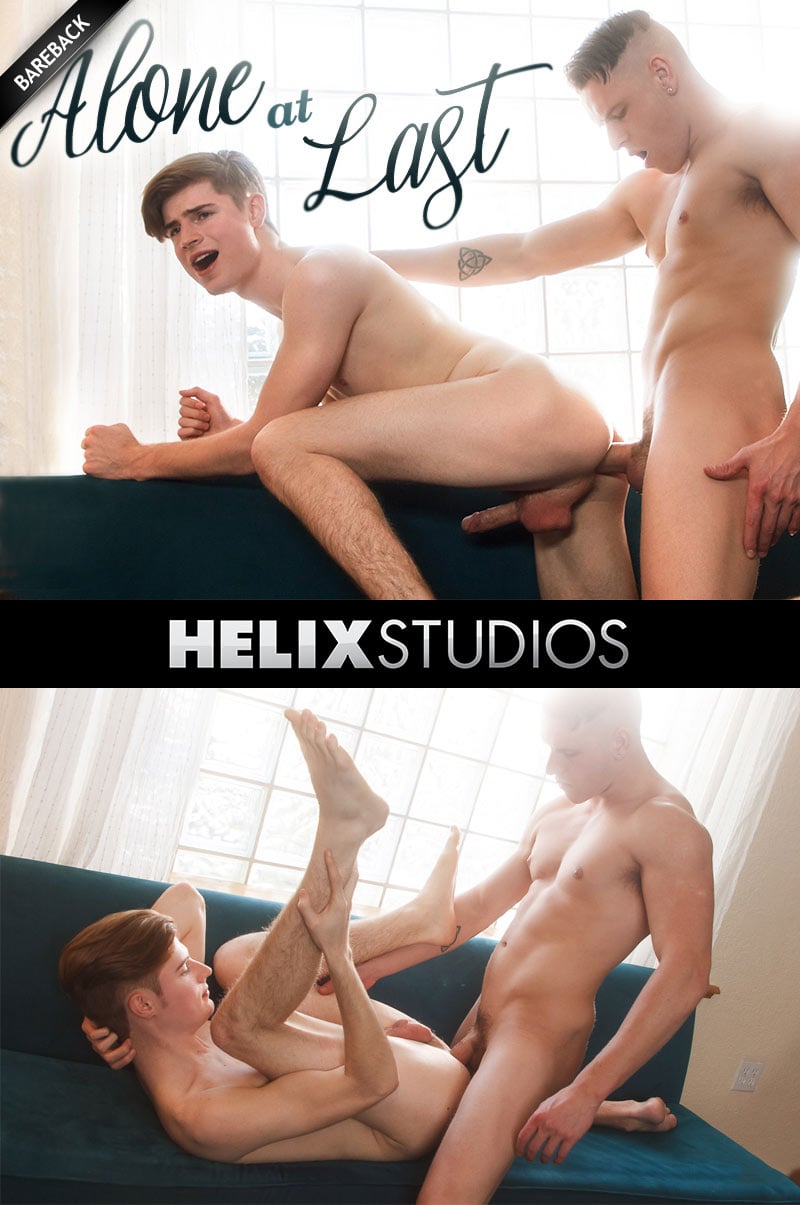 Shane Cook Fucks Travis Berkley in 'Alone At Last' at HelixStudios:
Uber hot Helix Studios couple Shane 'Huge Cock' Cook and Travis Berkley are kind enough to let a friend crash at their pad. But then he overstays his welcome by a few days, causing SEVERE sexual frustration to build up inside our polite couple. The second their unaware guest closes the door, suitcase in hand, the tasty twosome release a raunchy wrath of pent up pleasure upon one another!
Unable to hold their bone for the bedroom, Travis Berkley is on Shane Cook's cock devouring every inch right by their front door window. (We'd LOVE to be their neighbor!) Then Shane services his sex starved boyfriend's schlong with gulping gusto before tongue punching Berkley's perfect porcelain skinned booty. He then spits inside the ravishing redhead's hot hole signaling Travis to turn over.
Travis Berkley braces himself on all fours, wet and ready for his man's big bareback, beer can thick dick. After days of waiting, Shane Cook is finally able to cork his boy's hole and tears into Travis with raw animalistic wrath. Berkley turns onto his back, wanting to see his sexy beast of a boyfriend banging his boy hole with that smooth bodybuilder physique.
Conclusion:
Shane Cook cranks up the heat, smashing Travis Berkley's tight end with an unapologetic force of high gear hammering. Berkley's cum heavy balls are finally free to let days of pent up ecstasy loose. He then splashes his creamy smooth torso with a wild white river he's been accumulating for days! Shane whips his super hero hog out and aims it directly at it's pleasure source. Ultimately coating his boy's gorgeously gaped groin pouch with pounds of Grade A man goo.
Shane Cook swirls his beer can boner's hard work around Travis Berkley's bunghole before planting a perfect kiss on his boy. Finally, letting him know how much he's missed that beautifully tight, talented tush of his.
Watch Shane Cook Fucks Travis Berkley at HelixStudios