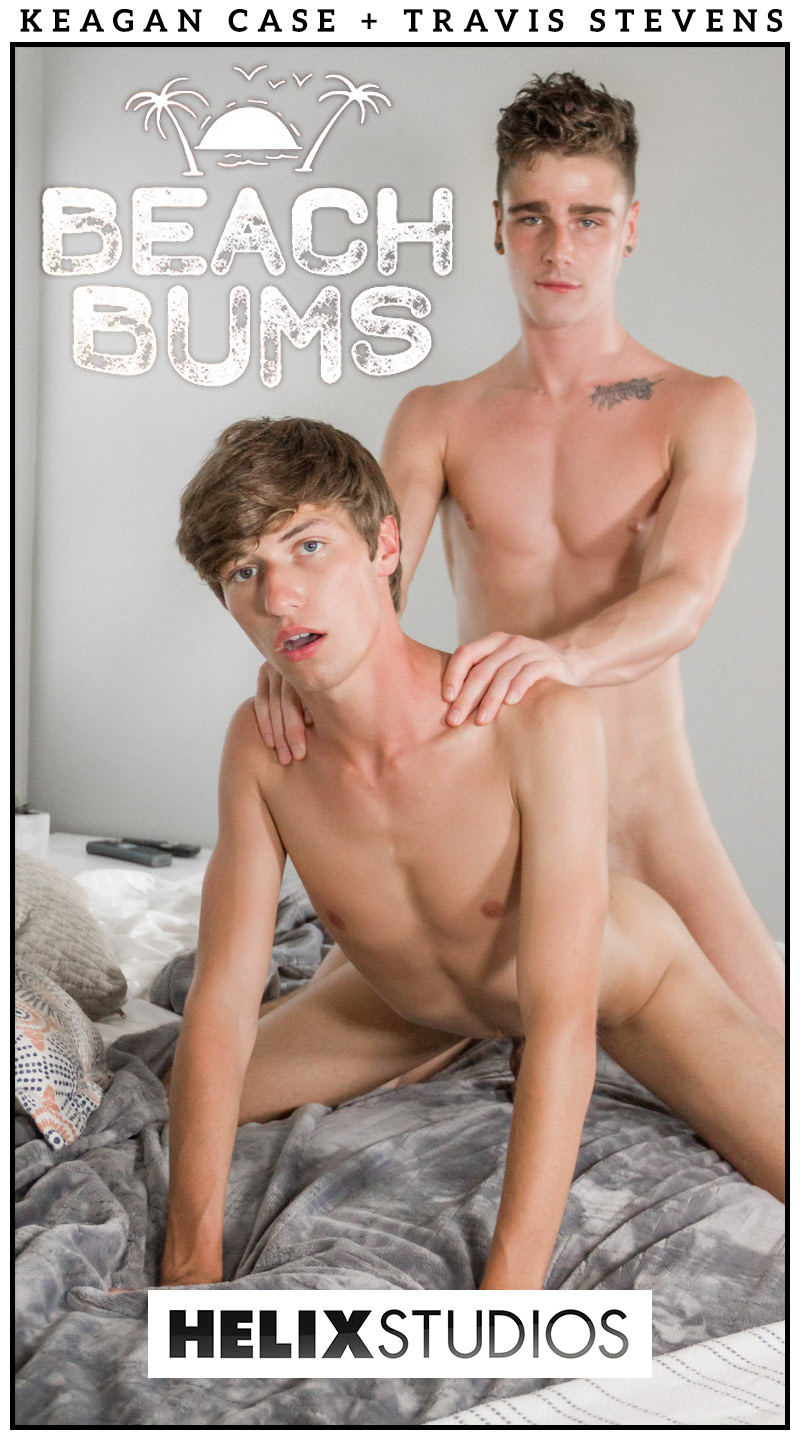 Travis Stevens Fucks Keagan Case in 'Beach Bums 1: Beach Boys' at Helix Studios:
It's a beautiful day at the beach, and Travis Stevens is feeling creative. He sparks up a joint and starts to sketch when fuck buddy Keagan Case sits on his blanket, taking his mood from creative, to horny!
The pretty pair head to Keagan Case's, where Travis Stevens' stiffy winds up down the lil' dude's throat. Case knows how to suck a cock. He deep throats the beach bum's big behemoth while working it with an eager hand. After a job well done, the sun kissed twink takes off his shorts, and crams his crotch in Travis' handsome mug.
Travis Stevens strips the confident cutie's underwear off then dines on that dick like a cock hungry king while he waxes his own big board. The vocal twink turns around, plants his perfect peach in Stevens face, then goes back to gorge on the guy's giant groin.
Next, our agile little spinner rotates his rear around, and squats right down on his muscle twunk's D. He rides that rig like a wave, moaning for more as his smooth seat swallows that swollen shaft over and over.
Travis Stevens manhandles the hottie into doggy style, then gets right back to bangin' that beautiful butt. Keagan Case looks back at his tight bodied top while feeling his well muscled legs laying into him.
Travis Stevens uses his thick body to maneuver the boy onto his belly before turning him over, and banging him out on his back where he takes a taste of those tender toes. Travis takes the twink's tight tail into his hands, lifts it up, then pile drives dick down into the dude before setting his sexy seat down so Keagan can cum.
The tan twink milks his monster meat till it's spits pure white pleasure all over his golden torso. Then, Travis Stevens takes milking matters into his hands, and hammers out a huge load that completely covers Keagan Case's bronze body.
After the ferocious fuck, Keagan Case complains the pretty pair don't fuck enough; so, Travis Stevens airdrops his some top's numbers. Will Case ring up a big kahuna? Find out on the next episode of "Beach Bums!"
Watch as Travis Stevens Fucks Keagan Case at HelixStudios
Watch as Travis Stevens Fucks Keagan Case at HelixStudios