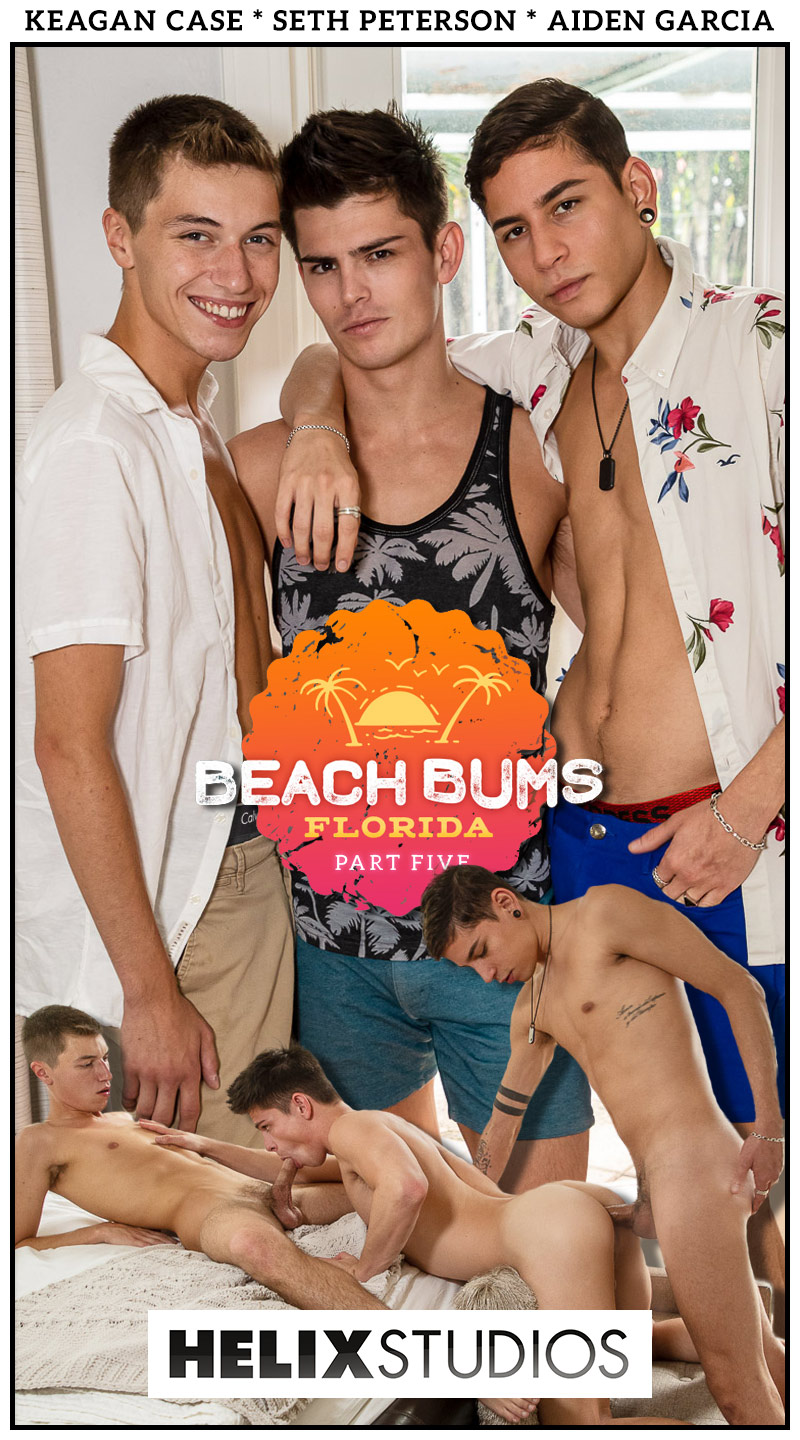 Seth Peterson, Aiden Garcia and Keagan Case Fuck Each Other in 'Beach Bums: Florida, Finale' at Helix Studio:
Seth Peterson is pretty peeved, after stumbling into his boy Garrett's threesome…without him! That's when a horned up, Aiden Garcia, and Keagan Case walk by, and convince sexy Seth that he has every right to be a whore too!
It doesn't take much doing, and soon enough, the three young bucks get to doin' the deed. It's revenge sex at it's finest; and, Seth Peterson pulls out ALL the stops.
After a triple tongue twirl with the two, Seth Peterson is on his knees worshipping Aiden Garcia's uncut cock; AND, he's kind enough to share it with Keagan Case. Knowing he put in some exemplary work, Peterson stuffs his perfect piece down Aiden's dick sucker, and our boy MORE than returns the fellatio favor.
The delicious, dick sucking train changes up a bit as cock hungry Keagan Case takes center stage, before being pushed onto the bed for some ass eating, triple trouble. Aiden Garcia stands up at the tail end, and shoves his extra large schlong into Seth Peterson's supple seat.
Mr. "In the Middle" then throats Keagan Case's colossal cock, making for a succulent spit roast, where Seth Peterson gets absolutely pounded! Wanting to get his wick wet, Seth sends Case over the edge with a deep dicking that makes the bed shake, as Aiden fills the boy's other hot hole.
Cumclusion:
The thirsty thrupple thunder through several other porn perfect positions before ending in a fuck train, of explosive climaxes. All three beautiful boys wind up covered in creamy loads, with Peterson plunging back into Aiden's incredible ass in the epic fuck finale.
Watch as Seth Peterson, Aiden Garcia and Keagan Case Fuck Each Other at Helix Studios
Watch as Seth Peterson, Aiden Garcia and Keagan Case Fuck Each Other at Helix Studios