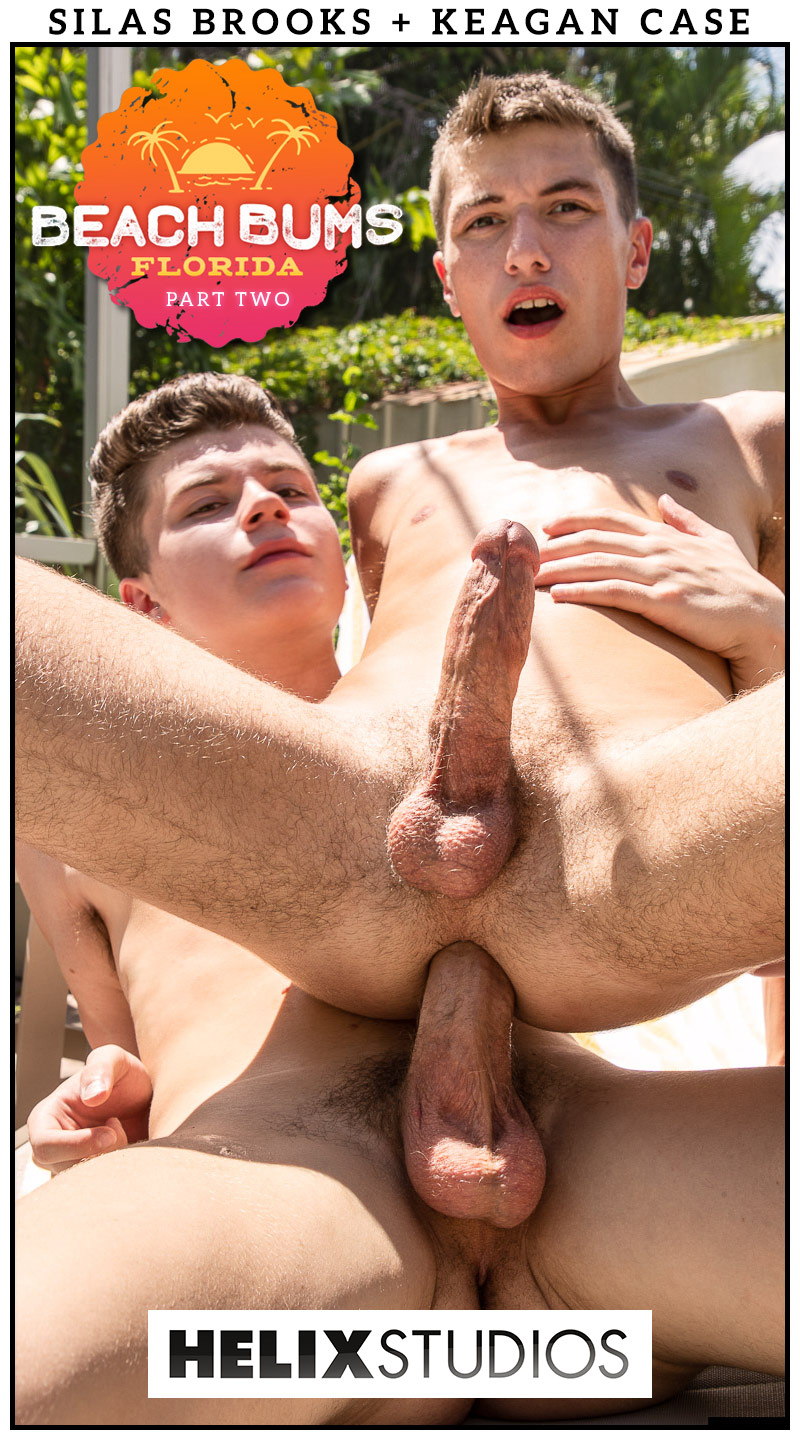 Keagan Case Bottoms For Silas Brooks (a.k.a. Baconator) in "Beach Bums: Florida, Part Two" at Helix Studios:
When Keagan Case's boy leaves him alone on the beach, it's Silas Brooks (a.k.a. Baconator) that comes in to save the day. He brings cutie Keagan into the gorgeous group of Helix Studios hotties staying at the beach house, and our boy has the time of his life.
After frolicking in the summer sun with the guys, Silas Brooks and Keagan Case sneak off to a private outdoor patio, and immediately turn the heat up even hotter. After a smokin' hot kiss and strip, case is on his knees peeling Silas' swim trunks down. He marvels at the the boy's miraculous meat, and worships appropriately.
Brooks Buries His Face In That Tight Twink Tunnel:
Then, Silas Brooks speaks up and tells the tan twink, "I wanna suck yours! Keagan Case ups the ante with some delicious dirty talk as he grabs Brooks by the back of the head, and face fucks him good! Next, dirty talker Case asks for an ass eating. Naturally, Brooks buries his face in that tight twink tunnel, until Keagan lets him know he needs a fucking.
Silas Brooks smacks the sexed up slut on the ass with his colossal cock, then plunges that big beast all the way in. Keagan Case arches his back beautifully, as he gets his hot ass handed to him doggy style.
The Bossy Bottom Wants To Ride It:
Next, the bossy bottom tells his top to, "get on the chair, I wanna ride it!" Keagan Case takes a cock heavy, bouncy beating, while pumping his own piston. Silas Brooks massive monster pushes the nut from Keagan's cock, and the sizable shaft goes off like a summertime sprinkler.
Cumclusion:
When Silas Brooks lets the boy know, he's about to bust, Keagan Case instinctively gets on his knees, and anxiously awaits his mighty meal. Silas spooges all over the dude's pretty face; and, as spunk drips from his nose to his mouth, Case goes in for a final cum covered kiss.
Watch as Silas Brooks Fucks Keagan Case at Helix Studios
Watch as Silas Brooks Fucks Keagan Case at Helix Studios