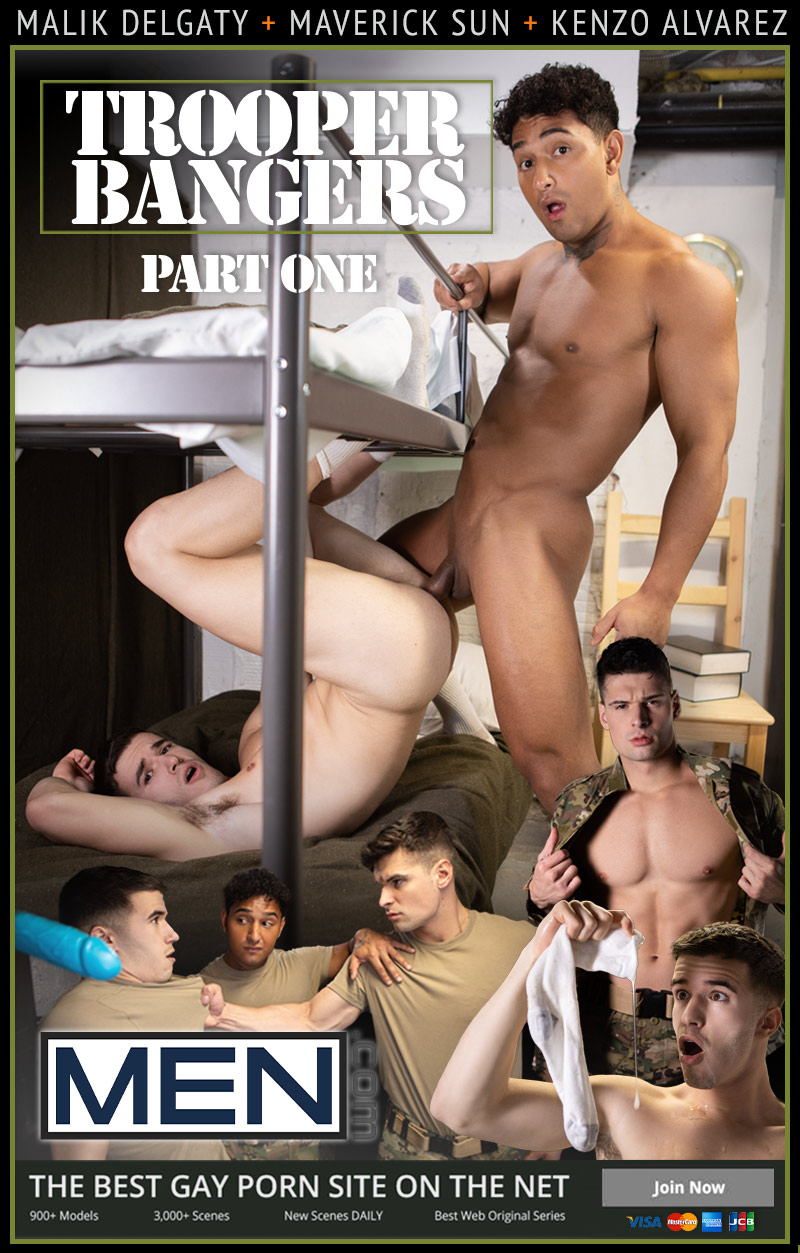 Kenzo Alvarez, Malik Delgaty and Maverick Sun in 'Trooper Bangers, Part 1' at MEN.com:
Discover the enticing tale of Maverick Sun, a passionate soldier longing for a private moment with his trusted sex toy. However, his world is turned upside down when his unexpected roommates barge in. The situation takes an alarming turn when Malik Delgaty [JustFor.Fans: MalikDelgaty] threatens to expose Maverick's secret. Amidst the chaos, Kenzo Alvarez steps in, advising the distressed hunk to remain calm.
Under the cloak of darkness, a thrilling rendezvous ensues. Kenzo ingeniously offers Maverick Sun an exhilarating experience by discreetly presenting his erect member through a concealed aperture in the mattress, inviting Maverick to indulge in an intense act of pleasure. Meanwhile, Malik surreptitiously seeks release in a sock, driven by their collective defiance of regulations.
As the passion escalates, Kenzo surpasses the capabilities of Maverick Sun's cherished dildo, unleashing an entirely new realm of satisfaction. Exploring positions such as doggy style, missionary, and spooning, Kenzo skillfully stimulates Maverick, his expert hands caressing and coaxing climax until Maverick reaches a euphoric release.
In a climax of surprising revelations, Maverick Sun stumbles upon Malik Delgaty's concealed evidence of desire—a cum-soaked sock—prompting the realization that Kenzo's disinterest was merely a facade. The boundaries of their relationships blur as hidden desires come to light, leaving Maverick to navigate a tantalizing new chapter.
Watch as Kenzo Alvarez, Malik Delgaty and Maverick Sun at MEN.com
Watch as Kenzo Alvarez, Malik Delgaty and Maverick Sun at MEN.com