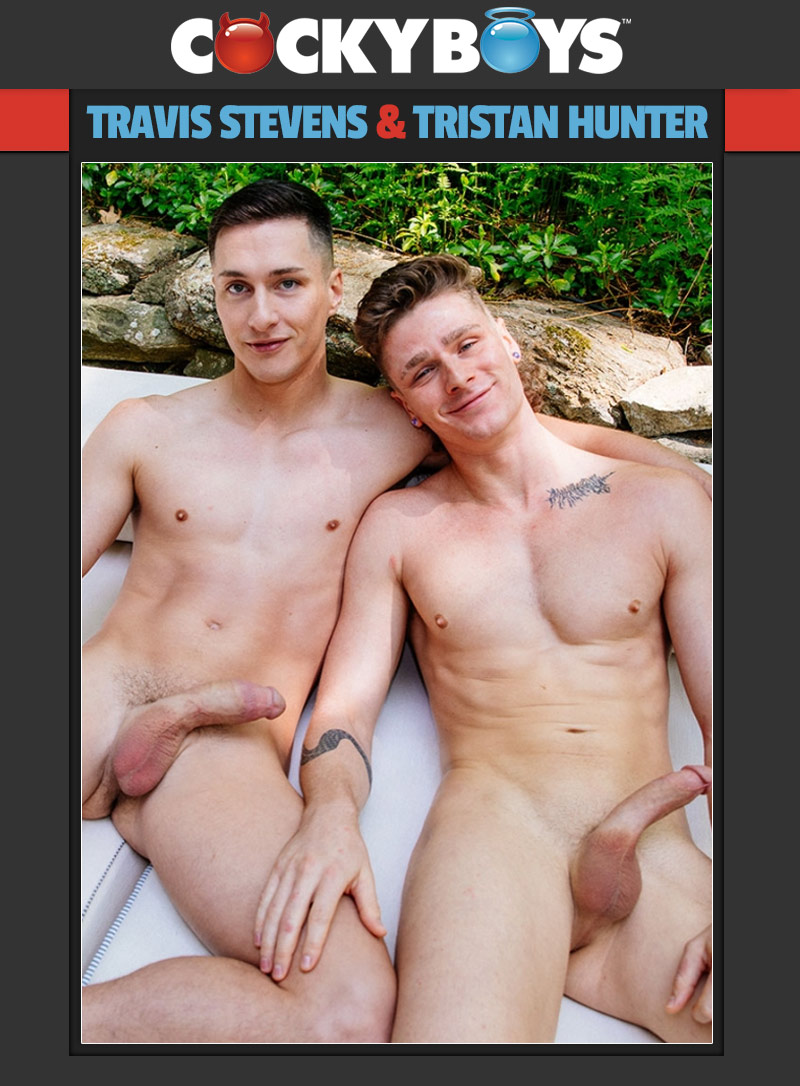 CockyBoys Exclusive Tristan Hunter Treats Newcomer Travis Stevens to an Unforgettable Outdoor Sex Experience
In the world of adult entertainment, CockyBoys stands out for its commitment to delivering unique and passionate experiences. In this captivating encounter, we witness the chemistry and raw desire between CockyBoys exclusive Tristan Hunter and newcomer Travis Stevens. This thrilling outdoor sex experience takes you on a journey filled with intense pleasure and exploration.
The Allure of Outdoor Sex:
Outdoor scenes have an undeniable allure that adds an extra layer of excitement and adventure to intimate encounters. The freedom, the thrill of being discovered, and the natural surroundings create an atmosphere that heightens the senses and fuels desire. Tristan Hunter and Travis Stevens embrace this allure, setting the stage for an unforgettable rendezvous.
Tristan Hunter, a charismatic and confident performer, takes center stage in this encounter. Known for his boundless sexual energy and exceptional skills, Tristan captivates his audience with every performance. Travis Stevens, a newcomer to the industry, brings his own enthusiasm and passion to the scene, eager to explore new boundaries.
Passionate Oral Pleasure:
The scene begins with Travis embracing the excitement, pleasuring Tristan with his enthusiastic oral skills. Travis's desire to please is evident as he passionately explores every inch of Tristan's body. The intense connection between them grows stronger as their desires align, creating a captivating display of oral pleasure.
Taking Charge: Travis's Desire for Penetration:
As the scene progresses, Travis takes charge, expressing his desire for penetration. The spacious outdoor day bed provides the perfect setting for their exploration. Tristan, equally eager to indulge in pleasure, expertly stimulates Travis's eager hole. With each thrust, the intensity builds, fueled by Tristan's boundless sexual energy.
Exploration on the Spacious Outdoor Day Bed:
Tristan Hunter and Travis Stevens experiment with various positions on the outdoor day bed, embracing the freedom and space it offers. From Tristan dominating Travis on top to pounding him on all fours, their connection deepens with each passionate moment. The control and intensity displayed by Tristan maintain an electrifying atmosphere throughout their encounter.
Tristan's Expertise in Pleasuring Travis:
Tristan showcases his exceptional oral talents, exploring Travis's throat with his impressive prowess. The connection between them intensifies as they engage in different positions, each one carefully chosen to maximize pleasure. Travis succumbs to the waves of ecstasy driven by Tristan's relentless thrusts, reaching climax in a moment of pure bliss.
Tristan's Boundless Sexual Energy:
Throughout the scene, Tristan Hunter's boundless sexual energy becomes evident. His passion and stamina fuel the intensity of their encounter, leaving both performers and viewers captivated. With each thrust and touch, Tristan unleashes a raw desire that drives Travis Stevens to new heights of pleasure.
Tristan's ability to maintain control is a testament to his confidence and skill. From being in control on top to exploring different positions, he guides the rhythm and pace of their encounter. Travis willingly surrenders to Tristan's dominance, reveling in the pleasure that comes from letting go.
Showcasing Tristan's Exceptional Oral Talents:
Tristan's exceptional oral talents shine as he expertly stimulates and pleases Travis. His ability to evoke pleasure through his touch and tongue is a testament to his expertise. The exchange of pleasure between them creates an atmosphere of profound intimacy and connection.
Climax and Cum: Driving Travis to Ecstasy:
As the scene nears its climax, Travis Stevens reaches the peak of ecstasy. Tristan Hunter's relentless thrusts and Travis's overwhelming desire culminate in a powerful release. The intensity of their connection is mirrored in the facial expression of pure pleasure on Travis's face. Cum-covered abs and a shared moment of fulfillment solidify their unforgettable experience.
The Cum Bath: Facial and Cum-Covered Abs:
Tristan concludes the scene by adding to the cum bath, giving Travis a facial. The visual display of their intimacy is heightened as the cum glistens on Travis's skin. The erotic nature of this moment lingers, showcasing the allure and captivating nature of outdoor scenes.
Travis's Enthusiastic Participation and Captivation:
Travis Stevens, a newcomer to CockyBoys, becomes captivated by the allure of outdoor scenes through his enthusiastic participation. His genuine desire to explore and push boundaries shines through his performance. Travis's experience with Tristan becomes a stepping stone in his journey of self-discovery and sexual liberation.
Cumclusion:
In this unforgettable outdoor sex experience, CockyBoys exclusive Tristan Hunter treats newcomer Travis Stevens to a journey filled with passion and desire. Their connection and intense chemistry are palpable throughout the scene, leaving a lasting impression on both performers and viewers. The allure of outdoor scenes adds an extra layer of excitement and adventure, creating an experience that will linger in the memory.
Watch as Travis Stevens and Tristan Hunter Fuck Outdoors at CockyBoys
Watch as Travis Stevens and Tristan Hunter Fuck Outdoors at CockyBoys