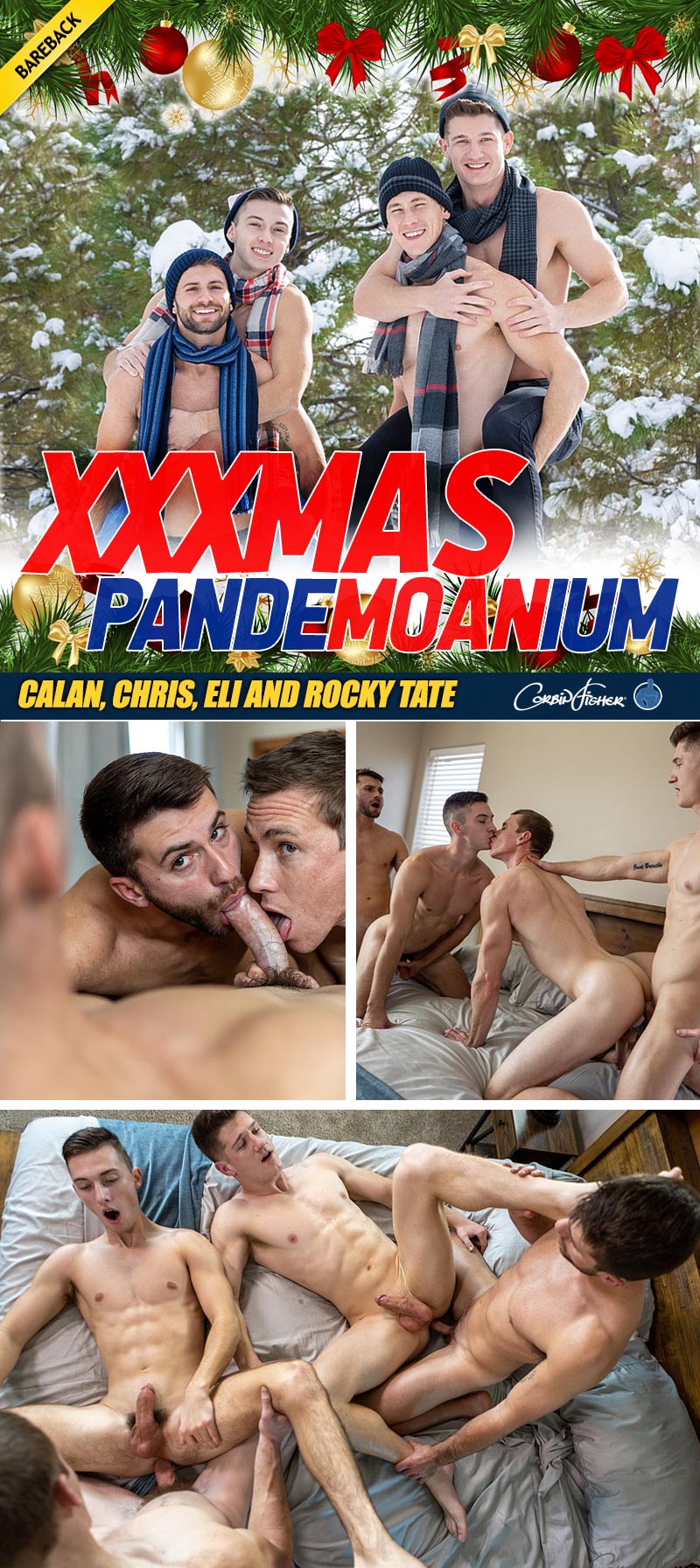 XXXMas PandeMOANium Fourgy with Calan, Chris, Eli and Rocky Tate at Corbin Fisher:
You've all been good this year and have made our nice list. Therefore, we have a very special treat for you – a mindblowingly hot holiday 4-some with Calan, Chris, Eli, and Rocky Tate all going completely wild and holding nothing back. This episode is what I am truly convinced has to be one of the all-time hottest foursomes Corbin Fisher has ever filmed!
Things start out with some super fun b-roll and behind-the-scenes footage. Here you get to see these 4 studs playing around and frolicking in the snow. All the fun and games and snowball fights can get you a bit chilly. Therefore, Eli and Chris take the lead in getting everyone back indoors to help one another warm up; and you know precisely what I'm talking about when I say "warm up"!
Four Handsome, Horny and Hard Corbin Fisher Studs Going At It:
Eli and Chris can't keep their hands, lips, or tongues off of one another. Soon the dicks come out as the clothes come off and the action begins. Never one to miss out on a good time (and never one to miss out on making a good time even better), Rocky Tate soon joins Eli and Chris in the bedroom. There Rocky contributes his dick sucking skills and big cock to the mix.
There were four young studs out in the snow, and soon enough there's four young studs in the bedroom; as Calan finally shows up to turn the threeway into a fourgy. Chris, Eli, Rocky Tate, and each and every one of us watching is thrilled Calan decided to join in on things. Finally, we're all treated to the epic sights and sounds of four ripped, handsome, horny, rock-hard studs going at it.
Quick Succession Load-Blowing:
And listen – I'm just gonna come out and say it. The climax of this episode, where all 4 guys blow their loads in quick succession, is a gay porn masterpiece. To have 4 guys all so worked up and on edge throughout it all and all blow their loads together like that makes it all so real. So remarkable, and isn't something you will often see in porn. But you'll see it here!
Make your load the 5th one fired off at this moment too. If you've lasted this long into XXXmas Pandemoanium!
Watch Calan, Chris, Eli and Rocky Tate at Corbin Fisher
Watch Calan, Chris, Eli and Rocky Tate at Corbin Fisher